Chaplin's, Cellar Bar, Boscombe

It's another balmy Saturday night in a busy Cellar Bar as we await two local heavyweights from the local scene. The numbers tonight are seemingly swelled by stag and hen parties; curiously looking on as they take a trip downstairs, quizzical as to what is going on? Soundman Connie treats us to the Fazza Faves album pre-gig, and with sound checks, complete Trickster takes to the stage with little fuss. No strangers to this venue they ply their trade of raw; slightly Political Pub/Punk to a growing audience. They open with "Clone Town", rather apt as I made my way through the streets of Vegas this evening!
Old favourite "Universal Soldier" never seemed more apt in the current world climate. "Shakedown" brings about the snarl in Paul's vocal as he begins to loosen up, pulling one or two shapes to accompany his bass throbs. Nick (guitar) almost nonchalantly plays side-on; gazing at his guitar as his twisted chords match the drum pounding. He looks up only occasionally to acknowledge the crowd. "Fake News" is dedicated to our wonderful BBC, which goes down well. The only thing missing from tonight's performance is the mini mosh pit that served them so well in their last show – everyone seems far too reserved, must be the heat! "Out Of Control" precedes the excellent "Great Britain" in a set that is clearly showing a slight Political tone. "Wheels Of War" precedes set-closer, the now-familiar self-titled tune 'Trickster' which they deliver with power. A great prelude to the main event, follow that Shakes!
Well it's been a good three years since I last saw The Electric Shakes, a band I have long championed. A couple of Lockdowns; illness within, a changing of the guard, and back again to the original three!! Could they still deliver? On tonight's evidence yes! Setting their stall out early they open with 'Get on Love' – normal service is resumed as they deliver a set high on octane and steeped in Garage/Psych/RnR (edit or delete where necessary?! 'Lightspeed Mother' gets the first full pit participation and pretty much keeps the punters there. Even the walls are dripping with sweat! Eric bass is chief shapeshifter tonight, busting all kinds of moves and shapes. Steve (guitar/l.vox) is chief rabble-rouser, bellowing out 'C'mon Boscombe' on a few occasions. This crowd need no encouragement. It's been so long I don't recognise half the set, but 'Phoney Highs' is an early highlight. "Crazy Little Love Machine" is a great crowd pleaser as they elevate their Dirty RnR up a level. Basha (drums) bashes away (sic) at the skins in the engine room, tucked away at the back but no less important. "Keep It Wild" does exactly that as this Cellar crowd show they are really out to party tonight.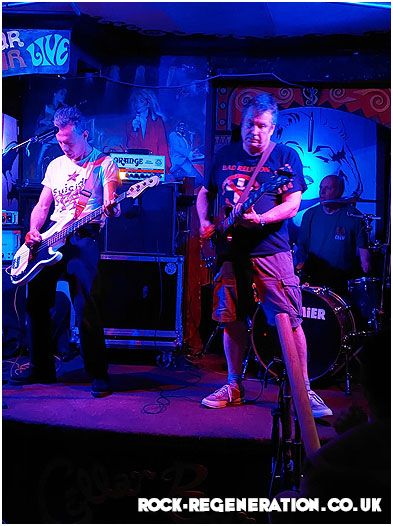 Sadly for me the Post/Lockdown bus service means an early departure for me (for once they are on time), but if anyone was ever in any doubt that the band had lost their 'Shake' then they were cruelly mistaken. This trio manage to deliver, both here on home turf and up in 'The Smoke' among other destinations. The only disappointment looking around me in the room tonight was not hearing the classic "Stereotypical Girls", which would've seemed so apt! But, the Shakes continue to push on with new material available. I once said "catch this band while you can in a small venue", thankfully (for us) we still can! The Electric Shakes continue to deliver both live and on record. Go watch, listen, seek…
Set Lists
Electric Shakes
Get on Love
Lightspeed Mother
The Doctor
The 157
Test of Time
Dirty
Phoney Highs
Crazy Little Love Machine
Rye 'n Dry
Keep It Wild
Hound Dog
Shot Me Down
Magpie
Blue Meanie
Trickster
Clone Town
Universal Soldier
Shakedown
Boredom Town
Fake News
Botox Baby
Shot Down
Out of Control
Shot Girl
Great Britain
Wheels of War
Trickster
Videos



Links
http://www.theelectricshakes.com
http://www.facebook.com/trickster
Review and Media by Ross A. Ferrone.