Sun-blessed singer/songwriter Lee Rasdall-Dove from South Coast of England seaside town Bournemouth has finally taken the plunge and released his debut album Out At Sea. The ten-track release was all recorded, mixed, and mastered by himself from his home studio. The album features three previously released singles "None Of Us Do", "Put The Kettle On" and "Fooled Again", with the latter featuring talented all-round musician Duncan Petrus (Sunstone Collective/Mischa & His Merry Men/Kaia Viera Band/The Wilderpeople) on Bass, Drums and Lead Guitar.
For many years Lee has been a huge supporter of the local music scene showcasing his original tunes at a host of local music venues across the South. He has also performed alongside acts such as Luke Concannon, Will McNicol, Sean McGowan, and Hattie Briggs. Lee completed a tour of the UK with Coffee House Sessions back in 2016 for the release of his debut EP "Head in the Clouds". He has also been involved in many other local musical projects offering help and support, and recording of short music videos to other artists. Lee ponders over the recording process of the album and says "it has been a huge learning experience for me, delving into the world of mixing and mastering. Being fully in control of my sound has allowed me to explore many new areas of the whole creative process".
The album is the culmination of years of work putting together this collection of songs, from a mix of old and new material bringing them to life with a full band sound. The project started back as far back as 2019, when work was unavailable this gave him the time to focus on a goal and do something that he has always wanted to achieve.
The artwork for all three singles and the album were done by Lee with the use of his mobile phone. The crossword idea for the album art Lee has had since he was back in school, all of the song titles are hidden in the square on the front cover. When you are listening to the record, take a photocopy of the cover and you have yourself a word search to keep your grey matter busy!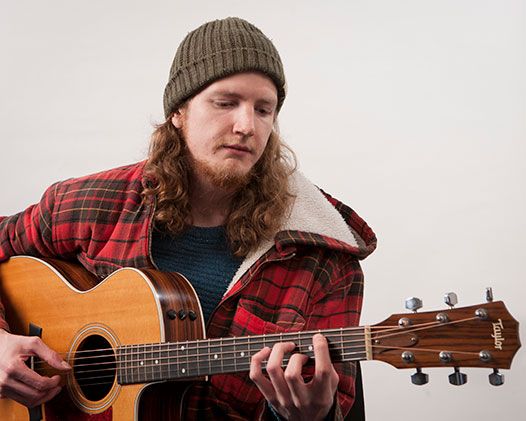 The album opens appropriately with "Dive Right In" and from the start you can hear (despite home recorded) the quality of the recording, along with the lovely tone of Lee's signification vocal. It's a slice of easy-listening soft Rock that positively bounces along with some nicely orchestrated twists and turns. Next up is 'Factory Job', a tune that is relatable to so many with the dead-end jobs that people have to make ends meet. Lee cleverly puts some hard-hitting reality lyrics to an infectious tune, backed with a catchy chorus and a deliciously executed middle eight.
One of the singles "Fooled Again" takes a really different backdrop and the pace slows down for this one. Lee's vocal on this is just so pure with its delivery seeming so natural. The aforementioned Duncan Petrus's guitar on this meanders beautifully along giving the track the melodic backing it deserves. A fine radio-friendly track that would be more than worthy of national airplay. 'In The Same Boat' sounds like a song that could have been created by one of Dorset's best exports Fearne. The track has its gentle delivery with its understated acoustic guitar and more of Lee's divinely delivered vocal. Though a very simple track with not a lot going on, the song has a lot to give and I'm sure after a few listens it could well become one of the listener's favourites.
"Middle People" kicks off with a catchy bassline before surprisingly a midi Saxophone joins in with the guitars and the wonderfully inventive, infectious wholesome rhythms. The lyrics ponder "This could be your fate, what choices will you make", while the background has some neatly added brass work. The whole track has a great deal going on and a lot to savour and enjoy.
One of the standout tracks of this collection, "Mountains" Lee explains "is a song I have had for a while – it's evolved many times over the years. I always envisioned it as needing to have impact and to be dramatic, when I started recording it I had just got a new computer as my last one was struggling; this allowed me to get the exact sound that I wanted and I felt it was a strong opening song for the album".
Track 7 "None of Us Do" is another slice of radio-friendly soft Rock that easily perforates the happy side of our brain, with its upbeat melodic guitar, smooth rhythms, and earworm chorus: "Pretty Sure That None of Us Do". The title track of the record apparently, believe it or not was not originally going to be on the album as it didn't exist until just a month before the first single release. Lee explains "it just came out of nowhere one day – I was playing around on the guitar and suddenly there it was, I felt so strongly about the song and thought it would be a great title track as it fits perfectly with the rest of the songs". Despite its late entry to the collection, it's one of the standout tracks of this collection; where Lee shows some impressive creativity.
The penultimate track "Put The Kettle On" is another one of the three singles put out previously. It has a beautiful euphonious vocal along with a lovely melodious sound throughout, and ultimately great track and one deserving of some real recognition. The final number "Suspend" Lee explains "is an interesting one, funnily enough it started as a folky finger-picked acoustic song, very soft and almost a ballad. I like to try my songs in different genres to see what they would sound like and this song just so happened to fit with a rockier vibe, I found it translated rather well with a bigger sound through".
As a debut it's a remarkable record and it just showcases the skills that this young singer/songwriter owns. The album is a short and fruitful journey through 10 songs that ponder a host of subjects using a variety of original styles.
Track-Listing
Mountains
None of Us Do
Dive Right in
Factory Job
Put the Kettle On
In The Same Boat
Middle People
Fooled Again
Suspend
Out At Sea
Links
http://www.leerasdalldove.com
https://www.facebook.com/LeeRasdallDove
Words by David Chinery (Chinners).