News: Luke Concannon Announces Gig At The LightHouse Poole
on
August 2nd, 2022
at
16:53

Luke Concannon, former chart-topping singles artist with Nizlopi, brings his mesmerising new solo show to Lighthouse, Poole on Saturday 24th September. Fresh from chart success on both sides of the Atlantic with his 2020 album Ecstatic Bird in the Burning his passion and enthusiasm infuse his songs while inviting the audience to make the songs their own – many find they're singing along to new songs they feel they've known all your lives and making a room full of new best friends.
When you're Ed Sheeran's hero and one half of cult underground folk hip hop act Nizlopi with a #1 single – The JCB Song – you've got a tale to tell, yet hope and triumph often sit alongside loss, self-doubt, anxiety and anger.
Luke Concannon's story is a complex one.

After experiencing the highs of fame and success as a songwriter in his 20s, the subsequent heartbreak of losing his band and community was tough. He hitchhiked to Palestine, volunteering as a peace worker in the West Bank and after meeting the American classical singer Stephanie Hollenberg on holiday, he followed her to the USA where they married in 2018.
Luke's struggle back to a place of belonging has resulted in a deep understanding that it is the interplay of light and dark that makes us whole. Only his second solo album, Ecstatic Bird in the Burning is an astonishingly honest collection of songs written whilst staying on Grammy and Tony award-winning songwriter Anais Mitchell's farm.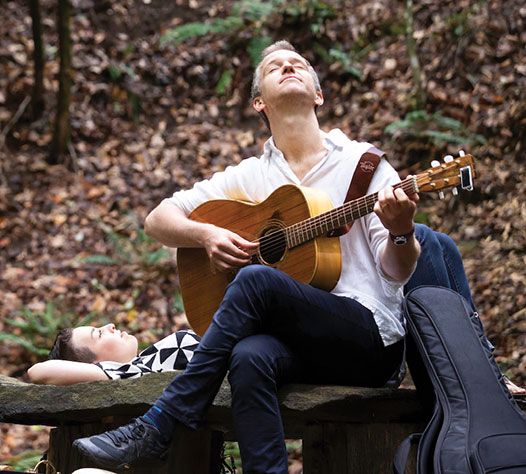 In the best tradition of his Irish roots, storytelling runs through his bones – part love letter, part poem, part call to action, the album alternates between grief and zest for life, despair, and hope, anger and love, destruction and growth. It explores the ecstasy of being alive, even (perhaps especially now) in a burning world.
Recorded in New England with Nashville producer James Prendergast and a group of superb musicians, Luke's poetic lyrics are set against glorious arrangements. Guitar, double bass, tanbur, drums, horns, and vocal harmonies create a world where the journey rather than the destination is the ultimate goal.
Purchase Your Tickets here.
Links
https://lukeconcannon.com
https://www.facebook.com/lukeconcannonmusic