Shaftesbury Arts Centre

Tonight's musical entertainment is supplied by West Dorset singer/songwriter Ben Francis (formally known as Seeking Benjamin), who tonight is launching his new four track EP "Foundations". We are in the wonderful setting of the historic Shaftesbury Arts Centre and with the intimate capacity of just 158, it is the perfect setting for a gig like this. Ben is out in the foyer before the gig welcoming the audience, who feature lots of his friends and family. I am sure I detect some pre-gig nerves with it being a hometown gig.
Before the headliner takes to the stage, a couple of quality support acts have been laid on to entertain us. The first of these is 19-year-old locally born Theo Powell. The singer has already released three singles and has many notable gigs under his belt, however at the moment he is mostly unknown outside of his manor. With his coastal surfer look and his sunshine bleached dreadlocks and casual attire, he captives the audience from the start.
Opening with "If Only That Were True" his voice wonderfully radiates around this old building, it is delicate with perfect definition. He humbly and a little nervously chats to the audience, giving a brief description of each song. One of the standout tracks is "Destructive is my Honesty", a beautiful song with very touching lyrics about a heart wrenching break-up and Theo's lyrics really animate the track perfectly.
The final number of his short set is "Old Friend", an enchanting journey with some delicately played acoustic guitar supplying the backdrop to some impressive lyrics including the memorable line "Our Voices Will Grow Old and Our songs Stay The Same". As Theo bids farewell to the audience he is rewarded with plenty of warm applause for an excellent set of original songs.
Next up is a young lady that I have seen perform a couple of times in a few local pubs and I feel it will be interesting to see how she fares in a theatre with a captive audience such as this. 28-year-old Kirstie Laurence takes to the stage with a glint in her eye and a collection of songs with some unique and quite controversial subject matter. I like the fact that she dares to be different with her lyrics and it makes the songs more memorable.
Kirstie has a real confidence in front of her audience and is totally unfazed by her surroundings. Her vocal and her guitar playing is her ally, she delivers the songs in a well-rehearsed way and plays them like they are second nature to her. Early highlights include "Lesson Learned" and "Jealous Of Your Girl" showing her voice is in fine form with the acoustics in this high-ceilinged building doing their job well. The unexpected twist with her lyrics that come with a sting in the tail feature in "My Curse". "What a Way To Go", "Young Drunk and Unadored" and "Body Bag" show not everything is as rosy in light as some other singers would lead you to believe. With the final track written as part of a dissertation for a college course from which she graduated last week this talented performer gets plenty of appreciation from the crowd for her impressive set.
After a 20-minute interval its time for the headliner. Tonight Ben has assembled a full band that features three backing singers: Susan Grant, Joni de Winter (Belle Street Singers) and Rebecca Jobling. Along with Dan Baker on Keyboards/Violin, drummer Jamie Bartlett, former Black Tree Vultures singer Tom Jobling on guitar and Pyrofox bassist Ben Hussey. The band are the same musicians that were brought together to record the new EP at Mill Farm Studios in Sherborne. Fittingly kicking off with the EP opener the full band smoulders through the intro before Ben arrives and delivers the powerful vocal, much to the delight of this audience.
Ben shows no sign of the earlier nerves and confidently delivers, it's understandable being a little anxious as it's clear so much work has gone into this one performance. With each song that is played there are many different arrangements with various members of the band playing their very individual parts. There has clearly been copious amounts of preparation and from the performance the time rehearsing has certainly paid off.
Ben's voice is powerful and emotive, he sings with a distinct honesty that radiates he cares what people think and comes across as a humble chap. It's hard not to be rooting for him to do well and this audience that is full of familiar faces hold him up throughout his entire time on stage. Powering his way through originals such as "Embers", "Youth" and a reworked cover of Elbow's "Grounds for Divorce"; it's an entertaining show with plenty to saviour. His crowning glory is the intense vocal delivery on "Maybe" with its understated instrumentation, it is tear generating stuff. The evening ends with "Our Song", a beautifully written track from the new EP that is so relatable for any of us with someone close. The animated audience applaud and cheer giving Ben the euphoric buzz and approval that he hoped for after putting so much effort into this.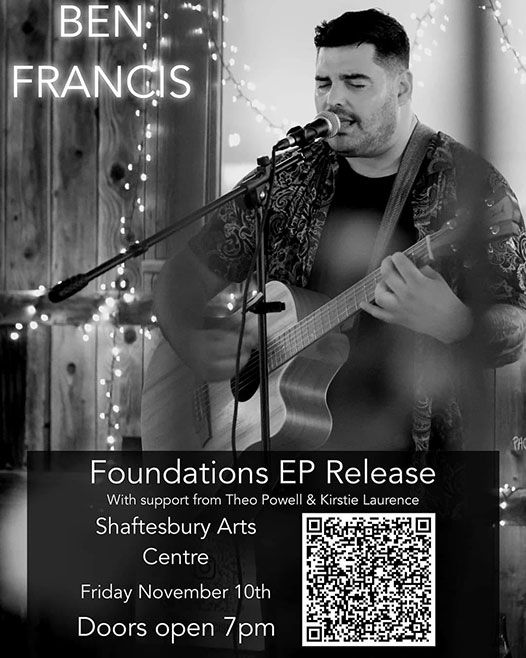 Set Lists
Ben Francis
Never Bring Me Down
Marry Me
Embers
Youth
It's Been a While
Grounds For Divorce (Elbow)
Morning Glow
Broken People
Maybe
Grace
Our Song
Kirstie Laurence
Like You Know
Lesson Learned
Jealous Of Your Girl
My Curse
What a Way To Go
Young Drunk and Unadored
Body bag
Theo Powell
If Only That Were True
Asking For a Friend
Destructive is my Honesty
Enough
Old Friend
Links
https://www.facebook.com/profile.php?id=100084284151981
https://www.facebook.com/kirstielaurencemusic
https://www.facebook.com/benfrancishq
Words & Pictures by David Chinery (Chinners)