Dorset's best kept secret return with their third album Folkadelia. Recorded and mixed in a shepherd's hut in darkest Lytchett Matravers in a quiet rural Dorset corner. The recording features eleven original songs that cover topics such as Love, Life, Death, and Politics. It includes fairground vibes and beautiful melody with some real surprises from flat out Punk Rock to wistful Folkadelia. Insightful biting lyrics with their lyrical tongues planted firmly within their cheeks, this eight-piece outfit incorporates banjo and fiddles to a lovely Punky backdrop with mouth-watering eight-piece vocal harmonies.
The band was originally formed by Mark Lyons, a former Indie kid who played in bands including "Resque" and "Chuck" back in the halcyon days of the 1990's; his dreams of hitting the big time like Carter USM and Mega City Four were dashed. His music ambitions though are like an itch you cannot scratch and despite getting a sensible job and a family, he continutes to create music with a host of like-minded musicians. These musicians all come from diffrent musical backgrounds and create a beautiful noise that sounds like no other. The band's live shows are one of pure celebration and with their main focus always on their own original creations
The album opens with a huge momentum and a track called "2nd Law of Thermodynamics"; the combined instrumentation of guitar, driving rhythms, melodic acordion and Mark's significant vocals. The tune spontaneously leaps out of the speakers and cry's to be listened to with some interesting lyrical content to unravel and decipher. "So Angry I Could Vote" is Mark's attempt at a protest song and one in his words of the most pathetic he's ever written. With it's infectious Folky propulsion, the gang vocal emphasizes the point and gives a rallying cry to the masses.

"A Lot of People Hate, Who Haven't Met Me Yet", is a song where the lyrics are about getting all that niggly annoying stuff off your chest and here with the help of some clever instrumentation and some well written lyrics, the cobwebs are blown away but only to return sometime in the future. The long musical intro leads to the lyrical confession "Failed musician, Living out a fantasy, every night there are sold out venues here for me". It is one that requires some deep thought and one that 98% of musicians treading the boards of stages up and down the country will relate to. "Talk is Cheap" is a beautiful meandering piece featuring the glide of Brad's banjo, some wonderous guitar and violin which combine divinely together. The hooky lyric "I look Up To the Stars and the Secrets that they keep" repeats to grab the listeners attention.
"Stand By The Road" is an ode especially for a friend and by listening carefully to the lyric; you can feel the warmth of the relationship, someone that is familiar with and a person that you enjoy spending time with. Great friendships are precious and should be preserved. The track totally sounds like the eight-piece TOMTMS firing on all cylinders in their creative melodic zone, you can almost feel the enjoyment they all feel when they are in a room together making music. "King With No Throne" is a track Mark wrote about his late Father and to anyone that has lost a parent, looking back over your lives together stirs up lots of emotions and Mark captures this here. The track name shows you clearly what he thought of his old man and the lyrics, coupled with the delicately played emotive sounds make a song that anyone who has lost a parent can relate to.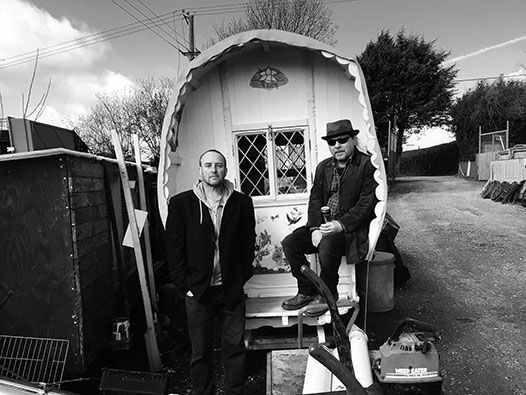 Track seven is "Starting Again" really reminds me of The Wonderstuff's "Unfaithful" from The "Hup" album, where Mark goes back to the 1990's and does his Miles Hunt impersonation. With its folky violins the melodies are catchy, the track feels like an apology for a wrongdoing in the past. "Smokescreen" has nice propulsion to it from the start with the banjo and the guitar, creating a wonderful background that works perfectly with the fast-paced rhythms. For me it is one of the standout tracks of the collection with a unique soundscape created. This speedy momentum continues with the next track "Repeat", which upliftingly bounces along with a foot-tapping backdrop as I drift off gazing up at the Autumnal sky out of the window – my mind wanders and I imagine the band performing this track on Jools Holland's "Later" and particularly Brad, Alison and Steve are looking pleased with themselves, the rest of the band have serious concentration on their faces and Mark looks nervous. The band end the track and Jools does some arse-kissing (as he usually does) and then goes off to introduce the next act. I then stop staring out of the window and re-focus to the job in hand, thinking about it despite what Jools thinks this band has plenty of quality and would be a perfect act to perform on "Later"…..let's start a campaign!!
We're off to do a bit of "Shoplifting" next with a track that has been inspired by the cost of living crisis that we currently all find ourselves in. The song enables us to catch a breath briefly with a slower pace and notably features some cleverly manufactured strings work and I feel has a slight nod to the loveable Liverpool quartet The Beatles. The harmonies are delivered as promised and the song is as diverse as the band show quite a change. Mark does what he is good at and nails the lyrics with some rousing words that details just how thing are at the moment. "It's getting more extreme which explains why we're so poor". The final number on this collection is "I Dread The Morning Chorus" or as I have renamed it "I Dred The Alarm Clock that wakes me a 6:25am on a weekday". Just listen to Brad's lovely chuckling banjo sound, it's pure joy and it gently trickles along with light percussion and accordion. It's a lovely way to end this eleven track piece of work that shows a band that are in fine form and have learnt from the last couple of albums to keep evolving and keep on learning to come up with such a fine body of work.
Track Listing
2nd Law of Thermodynamics
So Angry I Could Vote
A Lot of People Hate, Who Haven't Met Me Yet
Talk is Cheap
Stand By The Road
King With No Throne
Starting Again
Smokescreen
Repeat
Shoplifting
I Dread The Morning Chorus
The Band Features
Mark Lyons Vocals/Acoustic Guitar
Martin Giles Vocals/Guitar
Steve Wareham Vocals/Percussion
Rob Volwes Bass
Charlie Waygood Drums
Ethan King Violin
Brad Watt Banjo
Chris Pearce Accordion
The band are performing at the Lighthouse in Poole on 14th December, tickets can be purchased here.
Links
https://www.musicalbearrecords.co.uk/the-two-man-travelling-medicine-show
https://www.facebook.com/TheTwoManTravellingMedicineShow
Words By David Chinery (Chinners).