Salisbury based Float Like Candy formed in 2021 when Garry Fairway and Harry O'Shea joined forces to combine their very different creative talents to make music. Garry already had some lyrics and instrumetation that needed further work. Harry explained "Arranging Garry's songs is like taking a tramp out of the gutter, throwing away the Special Brew and administering a shave; a haircut and a change of clothes". A drum machine called "Alesis" was initially used out of necessity, but suited the way they worked and it was cheaper than getting in a real drummer. Henry(Harry's Son) was then brought on board to give further vocals and front the band. The EP was recorded in Harry's front room, mixed, mastered, produced with no studio and no budget.

The band's work culminated in a five track EP entitled "The Girl & The Peacemaker", this opens with the rather ecentric "Duck". A tale of love, uncertainty and distrust featuring the lyrics "You're so Hot, and I'm so not, and I just wish you could be my friend" ending with "are you the wet dream or the nightmare". The rather gruff distorted vocal is accompanied by simplistic guitar and plodding rhythms. Next up is "Carnival Bruising" which starts out as an aspirational hope for a wholesome holiday; "gonna go camping, fishing, hiking". It takes a (metaphorical) wrong turn somewhere and ends as a nightmarish lad's night out in Newquay "hot hatch cruising, carnival bruising, stereos blaring, tourists staring". Once again simplistic instrumentaion that is somewhat uninspiring.
"The Girl & The Peacemaker" takes on the grim sadness of war, the death of innocence and how things are not always as they seem. A brooding dark toned piece with a Bluesy feel to it. The penultimate "Tourists" is a song about sex tourism "Flew into Phuket; What a name to give an airport, Blue pills and Lady Boys, Bought my Thai Bride for the week". The instrumentation on this reminds me of Tom Robinson's "2-4-6-8 Motorway" a bit and has a Post/Punk feel with inflences from the likes of The Clash and The Stranglers. It features more of the gruff vocal styling as with the first track. A strange subject to write a song about, feels a bit like Gary Glitter is writing this from his prison cell.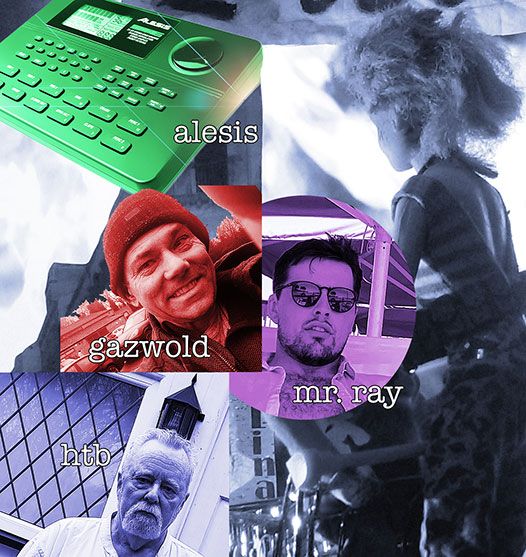 The final track from this EP is "Brits" whose subject matter harks back to the dreaded 18-30 package holidays "Brits on Holiday, Brits on Tour – get us a beer Babe, por favor", and why the prospect of brits on holiday still gives Spain nightmares. "Drinking, puking, fuckin' makin' noise". It like Blur's "Girls & Boys" without the uplifting instrumentation, without the engaging chorus and without a decent vocalist.
I genuinely (as most of our usual readers know) hate to be negative about music, but I honestly cannot find much to be positive about in this collection. There are plenty of great acts to come out of Salisbury and sadly this is not one of them, I'd rather listen to Nickelback and Coldplay (two of my least favourite bands).

Track-Listing
Duck
Carnival Bruising
The Girl & The Peacemaker
Tourists
Brits
Members
Gazwold aka Garry Fairway – Vocals/Guitar
Mr Ray aka Henry O'Shea – Vocals
HTB aka Harry O'Shea – Bass
Alesis- Drum Programming
Links
https://www.facebook.com/FloatLikeCandy
https://soundcloud.com/user-91600831
Words By David Chinery (Chinners)