Forming in 1998; Brighton-based band The Curst Sons have been stalwarts of the music festival scene for many years with their unique sound inspired by American traditional music, "Old-Time" to Rockabilly and Blues to Gospel. Over the years they have been described as Hillbilly Blues, Thrash Skiffle, Cow Punk, Dirty Americana or Deconstructed Rock n' Roll. You can make up your own name for their style; it is just infectious#, good-time party music leavened with the occasional dark ballad or wistful waltz. The band in their 25 years together have released 6 full length albums and received various prestigious accolades. These include Runners-up in the International SongWriting Competition (ISC), nominated for Best Alt. Country Album in the Independent Music Awards and for Best Americana Act in the British Country Music Awards.

Since the release of their sixth studio album "The Jumping Flea" in 2016 The Curst Sons have had some issues with lockdown and various health problems. After some line-up shuffles the band I'm pleased to report are still going strong and have been recording a bunch of new songs, watch out for their new single "Shine a Smile" coming out early 2024. In the meantime, the band have made available a 6 track Live EP recorded at the Rising Sun in Wimborne at this year's Wimborne Folk Festival.
In the days when people still bought CDs after gigs, the Sons were often asked "which one sounds most like your live sound?" The answer was some parts of all of them, so to celebrate 25 years of the band it seemed about time to give people a collection of their raw, visceral live sound. The recording really captures the band on fine form encapturing the atmosphere of their unique live performance. Any festival crowd are in safe hands with these guys, it's quite hard sitting here in early November after the clocks have gone back and its dank and cold outside. Their music conjurors up pleasant memories of warm sunshine-filled days drinking cider amongst a crowd of like-minded music fans.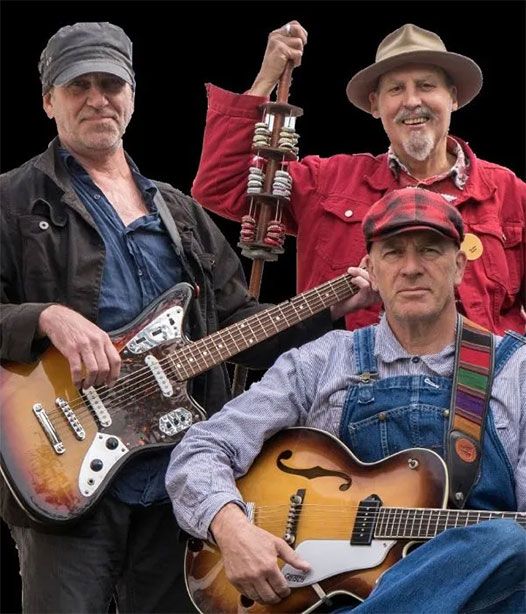 The tracks are filled with thought-provoking lyrics and infectious sounds. "Hoodlum Wife" starts everything off with Rockabilly flavours with note perfect double bass tracking the song's direction with melodic 50's style electric guitar, coupled with Willi's un-weilding percussion and vocal. "Ain't Done It Myself" continues the momentum with a slice of rustic Hillbilly stomp, while "Hobo" with its encapsulating mandolin expresses with some deskant vocals. The stomp begs to be danced to and you can just imagine having to dab your brow with neckerchief to remove the moisture created!
"Never Liked It" has an instantly recognizable backing of the "Salt Creek", originally written in the 1930's by Bluegrass pioneer Bill Monroe. It's amazing to see that still over a hundred years later, that Bill is making his mark. "Here We Go Again" starts a little like New Model Army's "Vengeance", before powering along with fuzzed-up guitar and some constant rhythms; along with some skilfully rustic slide work. The collection comes to its conclusion with some old Western-style preacher man lyrics with "Blood of Jesus", a song that threw us a host of curveballs as it unfolds. This is a long overdue collection that wholeheartly captures "The Curst Suns" doing what they do best, captivating audiences in a festival setting during the Summer months.
Track-Listing
Hoodlum Wife
Ain't Done It Myself
Hobo
Never Liked It
Here We Go Again
Blood Of Jesus
The Curst Sons are
Tim Dunkerley on Guitar
Mandolin & Vocals
Willi Kerr on Vocals & Percussion
Scott Smith on Bass, Banjo & Backing Vocals.
Links
https://thecurstsons.com
https://www.facebook.com/curstsons
Words By David Chinery (Chinners)