Dorset musicians, drummer Jonno Smith and guitarist Aaron Hammersley are clearly a very determinded pair; after putting blood sweat and tears into their last project the "Black Tree Vocals", only to have to shelve it after various unfortunate events. The pair return with an ambitious new project called Pyrofox, bringing along former bassist Ben Hussey and recruiting vocalist Tegen Jones. They draw inspiration from a myriad of genres, their music blends feature elements of Hard Rock, Alt/Rock and touches of Grunge creating a unique sounding experience that is both familiar and refreshingly original.
With themes of resilience, empowerment and self-discovery flowing through their songs; they're aim is to forge a connection with their audience with heart-wrenching ballads that lay bare the vulnerabilities of the human spirit, to fierce anthems that celebrate the strength within – their music carries a powerful message of hope and triumph.

The single shows the quartet starting off on the right foot with a powerful slice of Rock that bludgeons the senses with a host of elements to savour. As with the Black Tree Vultures the notable creative guitar skills of Aaron are the main focus, coupled with unrelenting dominant rhythms. Tegen then unleashes her unique voice that impressively takes over the focus with a vocal range that would challenge many more estsblished singers.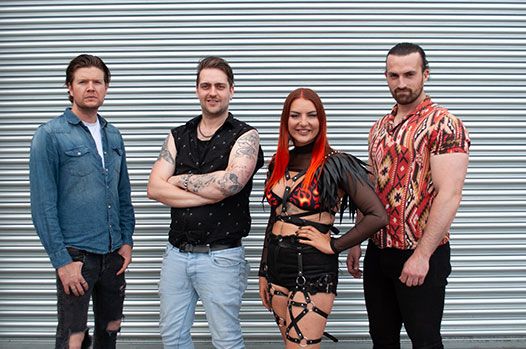 Aaron (can you tell I'm a fan of his work for this and previous articles?!) then lets loose with a guitar solo that just makes me grin from ear to ear. If you are a guitar fan you must hear this guy, his skill with 6-string must be seen to be believed. The track is 3 minutes 58 seconds of pure joy and I would not be suprised if some of the Rock Radio stations pick it up. Jonno and Aaron have previously showed plenty of promise and there are some very positive signs that this new project has the ability to succeed.
Line Up
Tegen Jones (Vocals)
Aaron Hammersley (Guitar),
Ben Hussey (Bass)
Jonno Smyth (Drums)
Links
https://www.facebook.com/PyrofoxMusic
https://pyrofox.bigcartel.com
Words by David Chinery (Chinners)