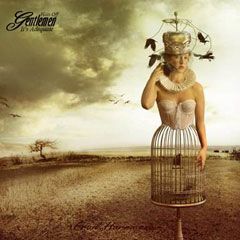 A little while back we did a preview/mini review of "Hats Off Gentlemen, It's Adequate" EP "It's Me Again", they have just released their debut EP "Frail Hurricane".

This EP is in the same vein as their single release, in as much as their is a rock sound provides the backdrop to some fairly bleak lyrics and imagery. This is made all the more personal by the nature of the songs, and how they relate to Malcolm, the songwriter and performer, who has Type III (hypermobility type) Ehlers-Danlos syndrome.
The most noticable difference is the shift from an acoustic-folk-rock sound to one that is more rock orientated on the opening track "Frail Hurricane", with a dose of prog thrown in for good measure! The rock element is most prevalent on the first track "Frail Hurricane".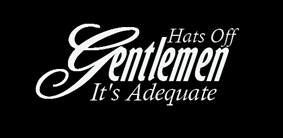 But there is a sharp change in temp for "By The Water", a slow almost ethereal track, with it's guitar work sounding like some of the solo offerings, or even "Wish You Were Here", from a certain Mr. Gilmour. The tempo picks up for "Me Again", although only slightly as a distorted guitar kicks in, harking back to the rockier feel of the opening track. Whilst "Wait For The Storm" takes on a more folk feel, which is helped by the use of a flute. Giving the track an almost haunting feel providied by the flute accompaniment, and accompanied by great guitar work. Closing with "All This Time" the journey comes to an end. Again, with some great guitar work, and mellow under current, and those ever pertinent lyrics.
Their is free streaming of the EP from http://www.reverbnation.com/itsadequate, and it is available to buy from iTunes.
The whole EP has a fairly bleak outlook, but when this is noted in context with the Ehlers-Danlos Syndrome it all becomes a lot more poignant. In fact difficult review when you get caught up in the emotion trying to review. For this reviewer it is music with real heart and meaning. As I mentioned in our other review, I have not seen "Hats Off" live, but I reckon they are unmissable.
If you like your folk rock rather rocky, rather folky, rather acoustic, possibly prog'y, as well as dark, bleak, and 100% heart felt, then they are well worth checking out. Hell, do it anyway!
…also loving the cover art;
The Queen's Scarecrow, (c) Kinga Britschgi. Used with kind permission of the artist. To see more of Kinga Britschgi's stunning art visit –
http://kingabrit.deviantart.com/gallery/.
(but not sure the Lego based video conveys the bleak nature of the material very well!)
Tracks (with YouTube links)
1) Frail Hurricane

2) By The Water

3) Me Again

4) Wait For The Storm

5) All This Time

Links
http://www.reverbnation.com/itsadequate
http://www.facebook.com/itsadequate
http://www.myspace.com/itsadequate
Words by Jon.
Education by Wikipedia;
Ehlers–Danlos syndrome
Name: Hypermobility
Number: Type 3
Description: Affects 1 in 10,000 to 15,000 and is caused by an autosomal dominant or autosomal recessive mechanism. Mutations in either of two separate genes (which are also involved in Vascular EDS and Tenascin-X deficiency EDS, respectively) may lead to this variant. Joint hypermobility is the hallmark of this type, with less severe skin manifestations. Joint instability and chronic musculoskeletal pain are common in this type.