News: Beatles with Wings Announce Life Celebration for keyboard player, Myles Dowley
on
January 13th, 2020
at
22:05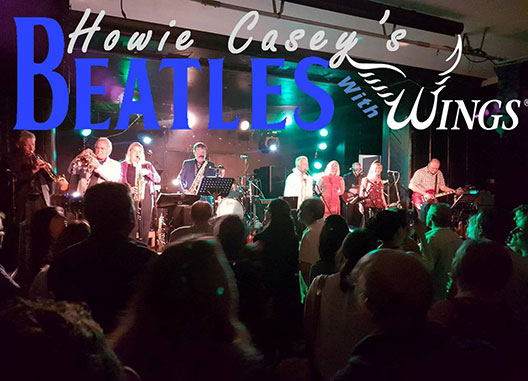 On Saturday the 1st February at Canford Heath Community Centre there is a special gig to celebrate the life the late Beatles with Wings' keyboard player, Myles Dowley, who sadly passed away on 1st April 2019. Myles was an incredible musician and has given inspiration through his music to many, his fans, friends and family will never forget his humour and absolute joy for life. Howie Casey and his band invite you to join the band in our celebration of their great friend and fellow musician in what will be an emotionally charged show full of great music created by Paul McCartney featuring songs from his world-famous bands Wings and of course The Beatles.
Howie Casey as a Saxophonist has performed all over the world in Rock, Jazz and R & B bands. In 1960 with the band he formed Liverpool band Howie Casey & the Seniors, he went to Germany and this started the Rock & roll connection between Hamburg and Liverpool that paved the way for many bands including The Beatles to go to Hamburg, Howie and his band regularly with The Beatles and also had Stuart Sutcliffe as a member of the Seniors. Howie and The Seniors were also Liverpool's first R & R band to record with a major record label ( Fontana ).
Howie worked with: Paul McCartney and Wings touring the world and recording Band On The Run, Wings At The Speed of Sound, Back To The Egg, Wings Over America. He has also appeared on many more Albums with Artists including ABC, Mark Bolan (Trex), Paice Ashton Lord (PAL), Elkie Brooks, John Entwistle, Ringo Starr, Cliff Richard, The Who( Quadrophenia, Tommy) and countless other recording sessions. Howie has worked with many other Artists on Stage and recording here are some of them Chuck Berry, Carl Perkins, Wilson Pickett, Jimmy Ruffin, Cliff Bennett, Cliff Richard, Lulu, Lee Dorsey, David Gilmore, Thin Lizzy, Mott The Hoople, The Hollies, Simple Minds, PAL, Chas & Dave, The Moody Blues, Tony Visconti, Les Humphries, Chris Farlowe.
Howie formed Beatles With Wings a few years ago to play some of the best Pop/Rock music ever written and recorded. The band 10 to 12 piece with 3 vocals, 4 piece horn section 2 guitars, bass, drums, and keys features some of the best musicians and vocalists around. They play songs from The Beatles including the early years on to Wings and more recent Paul McCartney Songs. Weíre not a tribute or look-alike band they just love playing this great music and having a ball as they do it.
Purchase Your Tickets for the February 1st show at Canford Heath Community Centre here.
Video


Links
http://beatleswithwings.wix.com/beatles-with-wings
https://www.facebook.com/beatleswithwings