News: Saving Grace Announce Lighthouse Date In May
on
March 3rd, 2020
at
19:53
featuring Robert Plant and Suzi Dian

Lighthouse, Poole's centre for the arts, is delighted to announce Saving Grace, featuring the legendary Robert Plant and Suzi Dian, will be appearing in concert for one night only on Monday 4th May. Tickets will be on sale to Lighthouse Friends at 10am on Wednesday 4th March before going on general sale at 10am on Friday 6 March. Tickets are limited to six per person.
Saving Grace is a co-operative featuring Robert Plant and Suzi Dian (vocals), Oli Jefferson (percussion), Tony Kelsey (mandolin, baritone and acoustic guitars) and Matt Worley (banjo, acoustic and baritone guitars, cuatro).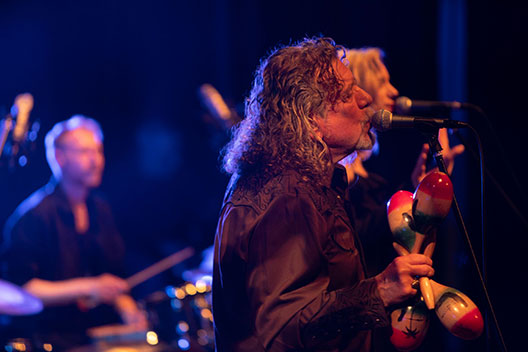 The five musicians work in glorious harmony from start to finish reworking a selection of diverse cover versions that have been collected from various places creating a musical journey in its truest form. Furthermore, this odyssey has been undertaken in the spirit of appreciation, musicianship, and exultation – they truly are a band of joy!
The show is one of just three warm-up shows the band are playing this month in intimate venues ahead of a US tour starting on 12 May in Minneapolis.
Video


Monday 4th May
7.30pm (Theatre)
Telephone : 01202 280000
Purchase Your Tickets here.
Links
https://www.facebook.com/robertplant
http://www.robertplant.com