News: "Stayin' In (Is The New Stayin' Alive)" by Si Genaro
on
March 30th, 2020
at
19:12

Si Genaro, the popular and well-known musician from Dorset, has written and recorded a song about the recent directive by the Government, to stay indoors. He collaborated with other local musicians by asking them to record various parts using a guide track and emailing the files to the studio for mixing and mastering. The studio in which the track was produced and mastered, Hangover Hill, is run by another well-known music man, Matt Black, and he turned the whole project around in just two days in order to catch the wave of local opinion of the time.
Many other musicians – who were collectively named "The Curfew Crew" – contributed to the track, and Si Genaro has offered to share any of the proceeds with them to help any hardships caused by the CoVid 19 virus that is causing the lockdown. In the hours after it's release on Bandcamp (link below) the song has attracted massive interest from many supporters of the local music scene, and further afield, and is receiving very favourable comments on it's merits.
"It was important to us that the song was actually a track that people enjoyed listening to", Said Matt Black of Hangover Hill Recording Studio, "Rather than knock out a quick production to make a point, we concentrated on it being a record that stands up in the charts, and it seems that the people hearing it are genuinely enjoying it. This is helped by Si's world-class songwriting talents – without a good song it's hard to produce a record that garners any respect, but in this case with "Stayin' In" both the song, and the musicians who sent in their superb recordings, such as Trumpets, Backing Vocals, Double Bass, Guitar etc, enabled us to finish the song to a really high standard."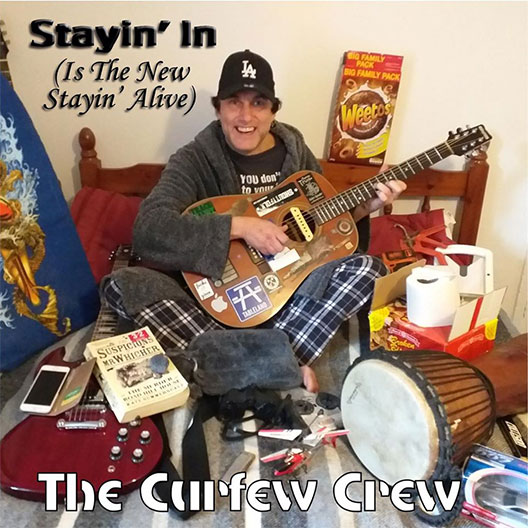 "What would be incredible is if the general public all spent a pound on buying the track, it would go a long way to sustaining the careers of these musicians, and the local music industry as a whole, through these difficult times where they can't perform in public at the moment. These are the guys who, as well as performing for a living have spent a lot of time playing for free at many charity events through the years – this record could be a way of maybe helping some of them in THEIR hour of need"
Purchase The Single here.
The Lyrics are as follows:
Verse 1
Wake up in the morning
And everything's changed
When did our lives
Get so insane
But you know there's no point in
Pointin' the blame
We all got to get along
Just the same
And normally you know I'm just a
Man on a mission
I'm not one for listening
To politicians
But listen up folks if ya wanna stay alive
Listen to Boris, and we will all thrive
CHORUS
Staying in is the new staying alive
You better believe me
Staying in is the new staying alive
I hope you receive me
Verse 2
And hey don't you worry
You got plenty to do
You got ya brothers and ya sisters
They're ya isolation crew
And even if ya feel that you're
Socially affected
The art of conversation can
Be resurrected
In space time there's FaceTime
WhatsApp ya know
Tiktok tiktok
Make a video
Learn to play the guitar
Like I shoulda done
And above all remember
That you're never alone.
CHORUS
Middle 8
Don't you worry we're not in a hurry
The sun will shine again
Don't you worry we're not in a hurry
The sun will shine again
And normally you know I'm just a
Man on a mission
I'm not one for listening
To politicians
But listen up folks if ya wanna stay alive
Listen to Boris, and we will all thrive
CHORUS
The Song Festures…
Lead Vocals: Si Genaro
Backing Vocals:
Lu Davis
Zoot Hill-Valler
Jordan Digby
Jemma Marshall
Georgie Lane
Sara Harris
Percussion:
Zoot Hill-Valler
Georgie Lane
Double Bass:
Alun Vaughan
Acoustic Guitar:
Si Genaro
Jordan Digby
Electric Guitar:
Jordan Watts
Keys :
Matt Black
Trumpet:
Harry Bassett
Links
https://www.facebook.com/sigenaromusic
http://www.hangoverhill.co.uk