So; Peacehaven's wildest and most controversial band are back with a new album "Fuctifano", and we at Rock Regeneration have the dubious honour of reviewing it! Here goes:
It opens with "Liver's Lament", a piano piece and gentle reminder that even the Test Tubes still use pianos! And that's where the subtleties end as the explosive onslaught that is 'Facebook Loser' makes itself known. Pete (vox) laments the Facebook obsessives in the most aggressive manner, matched to Sam's (drums) ferocious hitting. Although Del's clangy guitar opens the song it's the urgency of Pete's vocal that hits you like a cold beer can in the face. As harsh as the vocal is blunt you get the feeling Pete means every word. The key is in the chorus – "Horrific, Moronic, Pathetic", it pulls no punches and is the perfect "unofficial" opener.
"Hell To Pay" keeps the same drum pace and Pete's throaty delivery. The chorus, however, has an almost comedic feel while the bridge begins with clangier guitar before going off on a noodly tangent. The ending is abrupt and to the point which is great. "Cydrated" opens with a Burundi-style drumbeat, the brass section then kicks in and Pete displays a much more eloquent vocal. Ok so it's a song about 'getting Cydrated' after a hard days graft, but where would we be without at least one drink-related song?!
"Saturday Dad" has a real 70's Glam influence with its comedic intro. It's a song about broken families with a humorous chorus to boot. More brass and a slower all-round feel; there's more than a nod to Toni Basil's "Mickey", albeit subtle. "Gravy Train" takes us back up-tempo once more and the vocal is faster. Again it's an ode to modern life – Del's chiming guitar most prominent in the bridge while Pete's vocal is at its most audible. And the musical appropriation sound of a train to finish is a clever touch.
"Aint Missing Her Yet" goes all Chas 'n Dave on us with a right old Brighton Knees-Up. Ostensibly another drinking song, set to a comedy beat. A song of two parts that goes all maudlin at the end before speeding up to its conclusion. 'Wanker' allows Pete a vocals breather as a guest singer fills his shoes for one song. It's a live favourite in the making – "He's A Wanker" just dares to be sung out loud in venues across the land. It's slower and more melodic with a back story clearly apparent, a tongue in cheek lament to a partner or simply fiction; it matters not.
"Small Victories" opens with Del's now-familiar guitar sound and Pete's throaty vocal. More chiming guitar chords matched to a clicky bass and snare-driven hitting. It echoes a sound from their early days which isn't hard to like. "Punched Awake" you know just from the title is gonna be a ferocious little number. Fast and furious drumming, gravelly tones, more noodling and a sound we are so used to hearing. Angry, aggressive, in yer face and Punk as Fuck.
"Tales Of The Bleedin' Obvious" is more of the same with chiming guitars being the main feature. The lyrical content is a complete mystery yet the song is decent enough. "Screwed Down" and "Queen Of Fucking Everything" again take influence from 70's Glam Rock as one song seems to just flow into the other. Ok so it's Glam/Punk with thumping drums, noodling, hand claps, sirens – nothing is off limits! It's the penultimate track before they end on "Livers Lament" (Reprise). It's a final comedy song to finish a great album with, from one of the 2nd Wave's leading lights.
With "Fuctifano" the Testies return with a more than decent album's worth of new material. Clearly Pete and Del's creative juices are still flowing some 40 or more years later as is proved with this release. You might not hear anything new but won't be disappointed either. "Fuctifano" is a stellar album from Brighton's Premier Punk act.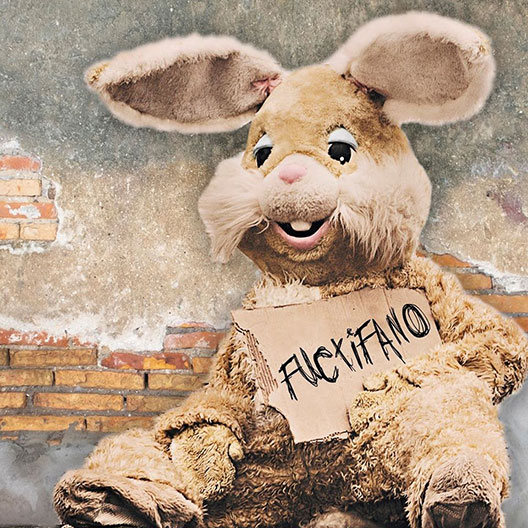 Track Listing
Liver's Lament
Facebook Loser
Hell To Pay
Cydrated
Saturday Dad
Gravy Train
I Ain't Missing Her Yet
Wanker
Small Victories
Punched Awake
Tales of The Bleedin' Obvious
Screwed Down
Queen Of Fucking Everything
Liver's Lament (Reprise)
Band Members
Peter Bywaters – Vocals
Del Strangefish – Guitar & Vocals
Nick Abnett – Bass
Sam Griffin Fuller – Drums
Video
Links
http://www.testtubebabies.co.uk
https://www.facebook.com/PeterAndTheTestTubeBabies
Review by Ross A. Ferrone.