Brighton Alt/Rock Trio 'The Rocket Dolls' finally announce their new album "The Art Of Disconnect", the follow-up to the 2018 critically acclaimed album "DeadHead". The new album was originally to be funded via a Pledgemusic campaign; after this epically failed the band switched course to their own campaign where their loyal army of fans came through for them, smashing the band's target amount. After nearly two years in the planning this 13 track soundscape is officially unveiled on the 1st May. It was recorded at 'British Grove Studio' in London, with production by George Donoghue. It was mixed using the safe hands of Rock legend Chris Sheldon; who has worked with a host of top Rock acts including Foo Fighters, Therapy?, The Mission, Feeder, and Skunk Anansie among others.
The band formed in 2008 and played their first gig that year at the popular grassroots venue The Railway Tavern in Winchester. They have since toured extensively gaining momentum performing gigs with big hitters like Massive Wagons and Funeral For A Friend, as well as playing a host of major festivals including Ramblin Man Fair, Winter's End, Planet Rock Stock and Hard Rock Hell. In the trio's time together; despite making some decent music the band have certainly underachieved, deserving much more for their efforts. This album is a positive step in the right direction and despite the world being faced with uncertain times, this album could well take The Rocket Dolls to next league.
The opening number is the title track of the record featuring a gentle piano intro, before Nikki's considerable voice is joined by a wall of synth and melodic guitar sound. Frontman Nikki Smash explains: "This is the song that started this album's journey off. It's about my mental health diagnosis and being relieved, I have answers but then being down about being labelled and carrying that around and that having a knock-on effect. It's also the living embodiment of how the Rock music and the Rock community are very much alive". Enthusiasm And Fumes is next and shows the band's heavier side with towering Rock riffs and rhythms, coupled with a crowd-rousing chorus. "It Comes At A Price" continues with the heavy momentum, with its hard-hitting opening lyric "my empathy is going to murder me'. Clearly a deeply personal song with a message that provokes much deep thought. "The Grip" is a track that has already deservedly earned itself some radio, a catchy number which shows a poppier infectious side to the band's creations.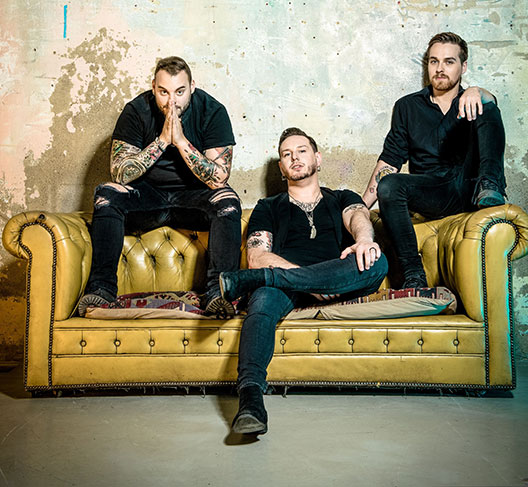 'The Clear Light of Self Hatred' is sure to become a live favourite when the band finally get back to playing live, it's a tune that audiences are sure to embrace and enjoy. The rhythms and uplifting chorus push the track into areas that the band have previously not visited. For a song with clearly dark undertones, it certainly has morale-boosting capabilities. "Grin & Bare It" shows the band slowing the pace with this deeply moving song, Nikki's vocals here are delivered in a deep emotive way. The guitar work on this equally matches the emotion perfectly, bringing the whole track beautifully together. "Who I've Become" shows its origination from the world of 1990's Grunge with a guitar sound that has that unique Seattle flavour.
'Habit Machine' is a complete departure from anything that the band have done before, it shows the band pushing themselves to create something that takes their music and abilities to a completely different level. Nikki's vocals here remind me of Paul Draper from 90's Indie band 'Mansun' and along with some added strings and piano, the track takes you on a delightful musical journey. Their sound exploration continues with "Slow Motion Ruin" with more Grunge influences from the likes of 'Alice in Chains' and "Silverchair". "Blueprint For A Breakdown" keeps things interesting with more melodic creativity, while "If I Could Trade Me For A Day" explores some catchy choruses that should more than keep live audiences happy.
The penultimate song 'Straight Jacket' clearly shows that there are no fillers on this album. The band keep their creative juices flowing until the end with a great tune, showing all their chemistry in full flow. Closer "Stubborn" uses acoustic guitar, strings and stirring synths to great effect; to end this thirteen track masterpiece perfectly with an unnecessary apology with Nikki singing "Didn't Mean To Fall Apart". This is a nod to the fact that he was diagnosed with a mild form of Dissociative Disorder, a mental health condition; the diagnosis was just the start of the healing process. The album and the songwriting process was clearly a form of therapy and a help in coming to terms with the condition.
The jubilation in finally completing and ultimately releasing the album is a great feeling for the band as frontman Nikki explains: "Never did I think I would be able to create a record like this and to sit back and listen and think I've been able to create art like this with my best friends, it's the best feeling in the world!". "The Art Of Disconnect" is an album that will define The Rocket Dolls and show to the world just what the band have to offer. 12 years of Nikki, Joe and Benji being together have got them to the point where they can all hold their heads high in the fact they have delivered 'that difficult second album' that will educate and excite its listeners.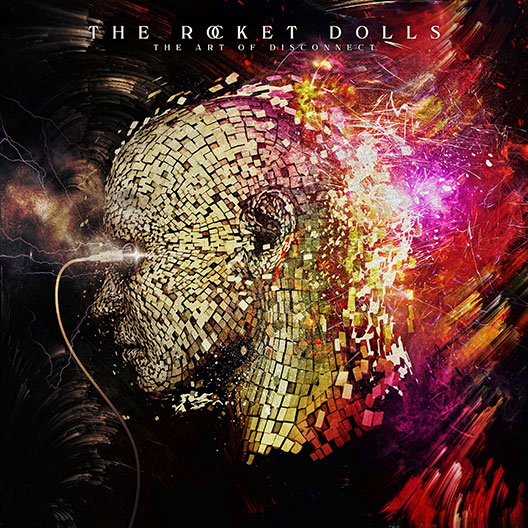 Track Listing
The Art of Disconnect
Enthusiasm and Fumes
It Comes at a Price
The Grip
The Clear Light of Self Hatred
Grin and Bare it
Who I've Become
Habit Machine
Slow Motion Ruin
Blueprint for a Breakdown
If I Could Trade Me for a Day
Straight Jacket
Stubborn
The Rocket Dolls are
Nikki Smash (Vocals, Guitars)
Joe Constable (Bass, Backing Vocals)
Benji Knopfler (Drums).
Videos
Links
http://therocketdolls.co.uk
https://en-gb.facebook.com/therocketdolls
Words by David Chinery (Chinners).