News: Massive Wagons Announce New Album "House Of Noise" Out on 17th July 2020 Via Earache
on
April 4th, 2020
at
20:21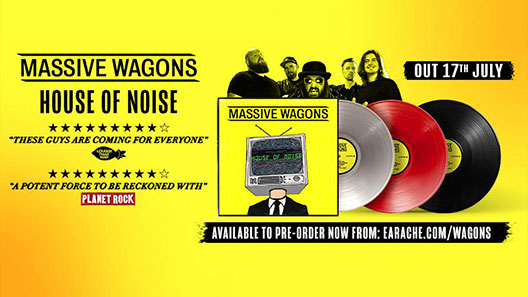 Lancaster's anthemic rock five-piece, Massive Wagons, are thrilled to announce their new album House Of Noise will be released on 17th July 2020, via Earache. To coincide with the announcement, the band has already launched the video for the first single 'In It Together'. 'House Of Noise' is the highly anticipated follow up to the chart-busting Full Nelson, a UK Top 20 hit in 2018; it is the band's fifth studio album and easily their most accomplished work to date. Commenting on the forthcoming release, front-man Baz Mills says: "I've always said that you cannot lie to your fans because they can smell an impostor a mile away, I couldn't do what I do knowing I'm feeding people bullshit, your songs, your stage show, interviews, ours are all 100% us, I'm 100% me and when I say this album is our best yet then I totally mean it! House Of Noise is absolutely our best songwriting yet, it feels like 10 years in the making and through being signed with Earache we were able to record it at a dream studio with two of the best producers in the biz, Mr Chris Clancy and Mr Colin Richardson, these guys took our songs, our ideas and abilities and collectively we managed to capture the best sounds we have ever recorded, we could not be happier with the outcome, it's been an absolute dream recording this album, and we cannot wait to give it to rockers and rollers all over the world."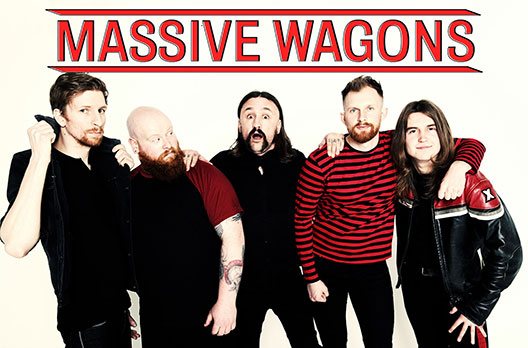 House Of Noise brings together all of the infectious elements that have endeared Massive Wagons to fans of maximum force rock n' roll – a raucous rabble-rousing sense of community, straightforward from-the-heart lyrics, and an irresistible combination of pop melody and street-smart hooks. The album contains 12 tracks that vary from the high octane opener In It Together, to the anthemic title track and the frankly ludicrous, but hilarious, The Curry Song, via the brooding menace of Hero and bittersweet lament of Sad, Sad Song. The entire experience overflows with personality and passion, and sounds like nothing else. Massive Wagons have finally found their groove.
Massive Wagons are
Barry 'Baz' Mills – Vocals
Adam Thistlethwaite – Guitars
Stephen Holl – Guitars
Alex Thistlethwaite – Drums
Adam 'Bowz' Bouskill – Bass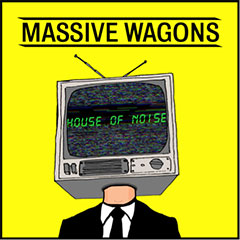 Tracklist
In It Together
Banging In Your Stereo
House Of Noise
Freak City
Hero
Professional Creep
Pressure
The Curry Song
Glorious
Sad, Sad Song
Hallescrewya
Matter Of Time
New album House Of Noise will be released on 17th July 2020, via Earache Records. Pre-orders are available here.
Video


Links
https://www.massivewagons.com
http://www.facebook.com/MassiveWagons
https://twitter.com/massivewagons
https://www.instagram.com/massivewagons