Before our countrywide incarceration; Worcester Country/Rock crossover merchants The Bootyard Bandits thrilled the Planet Rock Winter's End crowd in Dorset with an unforgettable performance, full of their classic original tunes that all create a real party atmosphere. Their impressive abilities as musicians and showmen, whilst proudly embracing a Wild West aesthetic gave widespread appeal. Although their tour of Europe/UK has currently been put on hold until further notice, they are planning on brightening our lugholes with the release of a 5 track EP featuring some of their live favourites. It kicks off with a track called "Shirt Potatoes", which was inspired by a phrase coined by an old farmer friend of theirs back in the day. This song is apparently a romantic tale; all about lost love, regret and one man's flagrant disregard for material possessions when faced with important life choices. The song mixes the raw materials of Rock music with cleverly created lyrics and a catchy chorus, while 'Hoedown Showdown' takes us down a different path altogether. From the start the tune positively bounces along, describing all the positives/negatives about the art of partying. It features some great creative guitar work; along with some infectious rhythms, to which it's hard not to keep still too.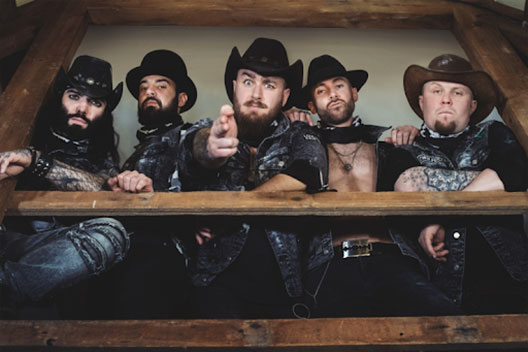 "Country Music" gives us a taste of the South with a rooting, tooting and tumbleweed dodging number that blasts its powerful way into your ears through the band's spot-on unified delivery. It features some clever and sometimes risqué lyrics; while as you would expect, we get treated to a bit of nifty slide guitar too. The momentum is kept up with 'One Hell of a Night'; a crowd-pleasing drinking song that sounds a bit 'Black Stone Cherry', mixed with a bit of 'Metallica' to make a cocktail worth sampling. The final track is "Ladies Man", an X-rated promiscuous tale of a man who clearly takes his carnal pleasure from virtually any lady that will have him. The song describes him as a "Sexual Superman" and features an earworm of a repetitive chorus 'Boom Boom Bang Bang' that drives it's mighty way right through your cranium. These guys could well be the British version of Steel Panther; they can rock your socks off with their tongues firmly in their cheeks to raise a Carry On style laugh while providing masses of quality entertainment. As soon as this worldwide pandemic does one, these guys will be back on the road with a mission to put smiles back on everyone's faces. Until then; download this new EP and learn the lyrics, so when you go and see them live you can sing-a-long with the band for a much more enjoyable experience.
Track-Listing
Shirt Potatoes
Hoedown Showdown
Country Music
One Hell of a Night
Ladies Man
Band Members
Joel Peters aka CJ Handsome: Vocals/Guitar
Paul White aka Bamm-Bamm: Drums
Mart Trail- aka Two Puds: Bass/BVs
Tom McCarthy aka Big Mac: Banjo/Guitar/BVs
Joe Carter-Hawkins aka Joey Bones: Guitar/BVs
Video



Links
http://www.bootyardbandits.com
https://www.facebook.com/BootyardBandits
Words by David Chinery (Chinners).