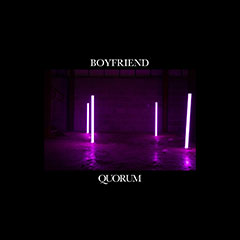 South West based four-piece Indie band Quorum have recently released their new single "Boyfriend". The track was put together at Momentum Studios in Devon with the able assistance of Josiah Manning on production. They also have a professionally shot video to go with the song which was produced by videographer James Fidge of YeahDawgie, featuring the band in full performance mode in a warehouse setting. 'Boyfriend' has been gaining the band some notable momentum and it was awarded BBC Introducing 'Track of The Week' shortly after its release. The band performed it in our local area back in February at the 'Live & Unheard' event at Poole Lighthouse.
There are plenty of noteworthy influences that the band have collectively taken on board here, using them to carve out their own unique familiar-sounding style. The soaring electronic opening leads to jangly infectious Indie/Pop-style guitars; with a sound not unlike 80's chart band Voice Of The Beehive, with more modern hints of Manchester band Pale Waves. The lyrics take on the old adage about the grass being greener on the other side, or the forbidden fruit; basically yearning for something you cannot have, something we can all associate with. "Boyfriend" is a well put together piece and shows four musicians working tightly together with each benefiting the other. This radio-friendly melodic tune sees the band progressing from their previous releases, exploring new sounds and textures.
Band Members
Jordan Hookway -Vocals/Guitar
Jake Hodgson -Lead Guitar
Noah Groves-Bass/Backing Vocals
Mack Hodgson -Drums
Video
Link:
https://www.facebook.com/QuorumOfficial
Words by David Chinery (Chinners).
Picture by Chloe Pollard – https://www.facebook.com/chloepollardphotography