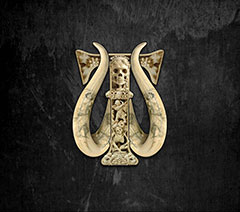 Jack Lande and Ben Parker are two talented musicians who have grown up with an eye on making it in the music business. They started out playing as a duo called "Soulcreek"; where they performed successfully at a host of local music venues, pubs and festivals. The mainstay of their set was covers, with the duo using a mix of electric and acoustic guitars to entertain their audiences.
They both from an early age had a desire to create their own music and would always try and include some original numbers in their sets. In April of last year the band were invited to perform an all-original set for the local Dorset music platform Live & Unheard at the Lighthouse in Poole. The gig was a roaring success and this gave the chaps the confidence to knuckle down and record their own original material. They decided on a name change and came up with their new moniker Tarraska, for no other reason than they liked the name and the fact no other band already had the name.
Their debut single "Trailblazer" is released this week and Jack explains "this record has been a long time in the making and we feel that the sound we've created is something all its own, which is reflected in the album to come". The single was recorded between Absolute Music Studios and GMMIX in Bournemouth, where they brought in Shaun Brown to play the drums. The single is an aperitif to the main album itself, which is to be released sometime in the near future. The duo plan to get a full band together and take the record out on the road as soon as they are able. The tune kicks off with no messing, straight into an electric guitar intro before Jack's considerable voice uplifts.
The combination of the creative Rock guitars and no-nonsense rhythms show these guys mean business. They have a great collection of songs from which they can build their album and it's going to be exciting to see them finally let off their leashes to make the music they have always wanted to make.
Members
Jack Lande
Ben Parker
Links
http://www.tarraska.com
https://www.facebook.com/Tarraska-102316761308657
Words by David Chinery (Chinners)