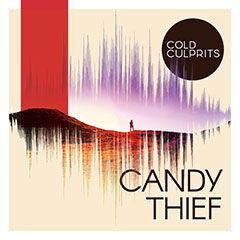 Emerging from his front room on the outskirts of York comes "Candy Thief" by the interestingly monikered Cold Culprits, (aka Andy Watson). No messing here it's straight in with the vocals over an immediate synth backbeat. It's kinda Garage Rock/Psych meets 80's Synth/Pop experimentalism. The somewhat muffled vocal just about rises above that clicky beat. Imagine Brett Anderson fronting The Ravonettes; most notably in the chorus, and you're still only halfway there. The electro bridge is short enough to allow the song to gradually build, although I find the main synth beat a tad repetitive.
However, this single sounds like an artist still experimenting and finding his feet. That said it's refreshing to hear a new artist come along who is not walking that well-trodden path of trying to be the next Joy Division, and for that, we should be grateful. I shall be interested to see what Cold Culprits deliver in the future as they expand into a full working band. Sadly the Covid-19 situation has put paid to any live activity, but one imagines this to be an opportunity for artists to enlarge their repertoire. And with future singles already written, I expect Cold Culprits to garner a few more followers over time.
Links
http://www.coldculprits.com
https://www.facebook.com/coldculprits
Review by Ross A. Ferrone.