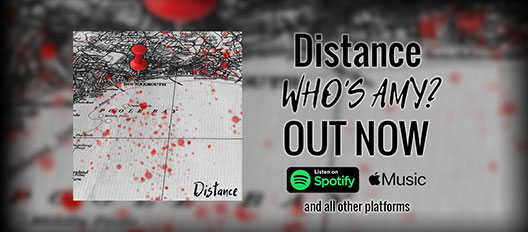 After a successful and extensive pre-release campaign Bournemouth four-piece 'Who's Amy' finally release their debut single 'Distance' this month. The band was formed in the Summer of 2017 when Amy Diggle (Vocals) and Liam Flower (Guitar) met at a mutual friend's Birthday party and bonded over similar musical influences. After performing as a duo at various local open mic nights the duo took things a step further, recruiting their rhythm section of Lydia Myatt (Drums) and James Tubb (Bass). With a host of varying influences ranging from New Wave, Pop Punk, Indie, and even Musical Theatre Who's Amy? have crafted a truly original sound. The band have worked hard on the local scene performing shows alongside other established acts including The Vixen's, Cause for Control and The Bedroom Text.
The single brings their wide range of influences together to create a debut that shows plenty of promise featuring Amy's passionate vocal delivery; coupled with an ever-present melodic guitar sound, along with some creative toe-tapping rhythms. The simplistic lyrics "You won't listen to a word I say, You won't Give Me The Time of Day, how can I love you like I do" drills its way into your brain very easily, leaving a lasting impression. Who's Amy is one of only a few new young bands on the local Bournemouth music scene who have plenty of enthusiasm to make new original music. This tune is clearly just the beginning of their creative output and we can only look forward to seeing how the band progresses in the future.
Band Members
Amy Diggle (Vocals)
Liam Flower (Guitar/Vocals)
James Tubb (Bass)
Lydia Myatt (Drums)
Find the single on Spotify here.
Link
https://www.facebook.com/whoisamy1
Words by David Chinery (Chinners).