Teenage Waitress is the new vanity project by bedroom musician Daniel J. Ash. After a couple of rather good singles he unleashes this LP upon us, which we at Rock Regeneration have the pleasure of dissecting!
"High in Someone Else's Time" opens this experimental collection with a gentle organ-led intro. The soft, subtle vocal intro is a wonderful entry point – I'm reminded of Flaming Lips in all their pomp and splendour before the songs ending just builds with a strange alarm clock ticking sequence which just builds to its conclusion. That clicky beat continues on "The Mess You Made Me Make" during the intro and throughout. I'm reminded of Indie/Poppers My Life Story – multi-layered vocals, personal lyrics and a sample-led beat throughout. And the ending is sharp and precise.
"I'm Leaving Berlin" begins with more sample-led subtlety and gentle vocalising that eventually comes alive. Lyrically again staying in the personal ballpark, while yearning for a chance to escape/elope. The song plants an image in my head of just jumping on a tram in Berlin on a whim, and seeing where one ends up?! Experimental and another great ending. Recent single "You Aint Got it Bad" follows, doffing its cap to 80's Electro pioneers OMD. It has that Summery, Electro vibe – imagine soaking up the rays in your local green space, just whiling your day away. The dual vocal acapella edits at the end is a clever touch too.
From the early Hammond chimes, through to the layered vocals "Blue Walls" gets right into your senses. It's bouncy and flouncy, just filling you with joy. Romantic, personal, uplifting and many an adjective I could foist on this wonderful album highlight. The "oooh, wooahs" throughout set the mood, vying for space above that chiming organ sound. It has that unmistakeable "Indie Underachiever" vibe about it, you know it's a great song but not enough people have heard it!! "First Draft, Love Song" reverts back to a gentler mood, building slowly with subtle vocals amid more clever sample-led beats. With "Love Song" in the title one can merely speculate about lyrical content. The fact that 2003 is mentioned in the chorus would appear to evoke a memory that never faded. The reprise ending just leaves you wanting more.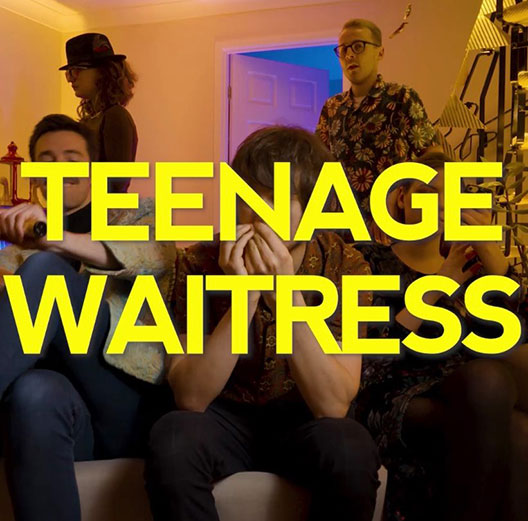 "I Don't Like This Party" is the most uplifting song on the collection. Energetic, bouncy and tongue in cheek. It has an unmistakably catchy beat and tells the story of being at a party one is not enjoying – and we've all been there!! "Maniac" reverts to a spoken word intro with harmonies aplenty. HHH – humorous, honest and heartfelt. Handclaps, beats and clicks – catchy as hell. Vocally I'm reminded of Glenn Tilbrook (Squeeze) while the gentle cymbal tapping matches the keys throughout, but the slightly repetitive subject matter steals the limelight somewhat.
"TRAK,TRAK,TRAK" begins with a twisted loop. This experimental number employs a nasal vocal style and a chorus that just begs to be appreciated! The winding keys/loops are mildly annoying but the bridge lends itself to a welcome break in the experimentation. The confident vocal this time around reminds me of the Glam stomp of one Russell Mael (Sparks). With a song so steeped in the past I just can't decide if it's a work of genius or just plain annoying?! "Primary Colours" begins all loops, pipes and effects and again I'm reminded of Jake Shillingford (My Life Story). Heavy and pounding one minute, soft and subtle elsewhere – the vocal gets drowned almost entirely throughout, which is a shame because (I feel) it has the potential to be something great.
"You'll Lose, My Love" returns to that lovely Summery feel. Full of positivity and advice, that classic early 90's Lo-Fi Indie vibe. Short but sweet and written with a certain other in mind. A statement song of love and hope, advice and longing and ends disappointed leaving you feeling for the subject of the writer's affections. "Sweetie" is the perfect album and live set closer. Brutally honest lyrics and coming alive with potent keys. The layering of both vocal and instrumentation is a clever twist. The bridge allows breathing space before that vocal kicks back in and reminds us what this artist is all about. The way this song concludes it simply fades away, leaving one guessing what this talented young artist will come up with next?
"Teenage Waitress" is flying the flag for every bedroom musician/artist/dreamer/romantic. Where he differs is his ability to put together these 12 cuts of varying styles and structures. No two songs sound the same, but whether it can be replicated in the live arena remains to be seen. But on the evidence of this collection, the future is clearly bright and sun-drenched.
Track listing
High in Someone Else's Time
The Mess You Made Me Make
I'm Leaving Berlin
You Ain't Got it Bad
Blue Walls
First Draft Love Song
I Don't Like This Party
Maniac
TRAK,TRAK,TRAK
Primary Colours
You'll Lose, My Love
Sweetie
Link
http://www.facebook.com/teenagewaitress
Review by Ross A. Ferrone.