Single: "Won't Be Broken" by These Wicked Rivers
on
September 4th, 2020
at
19:36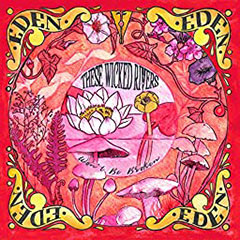 Off the back of their critically acclaimed debut album Eden, These Wicked Rivers are excited to announce the release of their fourth single Won't Be Broken. To coincide with the single, the band will be launching a video, which can be seen below.
Taken from their debut album, Won't Be Broken is one of the most powerful songs on the record. The track is a solid, perfectly crafted rock number in which tasteful guitar riffs, unrelenting rhythms and intense, gritty vocals come together to create a song that is as beautiful as it is relatable. The energy-fuelled introduction finds its counterpart in the sinuous, brooding verse where sharp hard rock edges are balanced by bluesy echoes, which erupt into a sincere and passionate climax.
Frontman John Hartwell comments: "Won't Be Broken" revolves around someone stuck in a relationship with someone whose jealousy and paranoia cause them to try and break their partner's life apart so that they are left with no one else to rely on. It's about realising what is happening and finding the strength to pull themselves out of it before it's too late."
Won't Be Broken is just one example of what These Wicked Rivers are capable of. Their critically acclaimed debut record 'Eden' bursts with excellence. Drawing inspiration from the likes of Black Stone Cherry and Clutch, the band has created a series of tracks that organically and seamlessly co-exist and interact, producing a cohesive record which has impressed critics and fans alike.

Drummer, Dan Southall says: "With this album, we're really proud of what we've achieved. We feel we've made an album that encapsulates everything we have done before and shows what we want to be in the future. We can't wait to take it on the road when circumstances allow."
Dan Southall adds: "We're so excited to finally be getting "Eden" out there and we've been absolutely blown away by the response to the record. Not even a worldwide pandemic has stopped our fans supporting us. We launched a "Stay at Home" tea-making bundle as something fun to look forward to during lockdown and that sold out in double quick time. The merch bundles are nearly sold out. The orders just keep coming. The support has been unbelievable and we can't thank everyone enough. Incredible."
Check out our review of their debut album "Eden" here.
Links
https://www.thesewickedrivers.com
http://facebook.com/thesewickedrivers