News: Massive Wagons Announce Live & Rarities Album The Good The Bad and the Ugly
on
October 22nd, 2020
at
17:00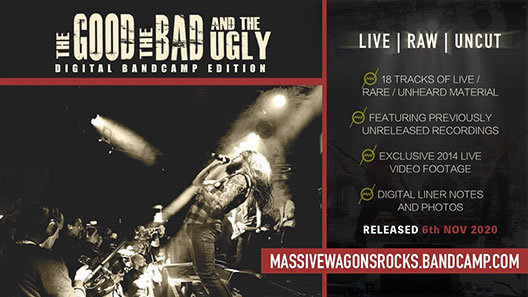 On the 6th November, Massive Wagons release a compilation of their early material called "The Good The Bad And The Ugly", some the recordings were originally released in 2015 as part of a live album. The updated 2020 digital-only edition features 10 live recordings, plus a collection of B-sides, unreleased studio tracks and alternate versions of earlier material.
Track-Listing
Rising Tides (live)
Dirty Little Secrets (live)
Buck (live)
Fight the System (live)
SWT (live)
Truth (live)
One For Me (live)
G String Boogie (live)
Blood Rain
Red Dress (Single Edit)
Ride On (2015 Remaster)
Heavy Metal Man (2015 Remaster)
Stranger (2015 Remaster)
Blackbird (2015 Remaster)
Shotgun Wedding
Red Dress (Naked Version)
Blood Rain (live)
Black Witch (live)
Pre-order The Good The Bad And The Ugly here.
Video


Band Members
Baz Mills – Vocals
Adam Thistlethwaite – Guitar
Stevie Holl -Guitar
Adam "Bowz" Bouskill- Bass
Alex Thistlethwaite – Drums
Links
https://www.massivewagons.com
https://www.facebook.com/MassiveWagons