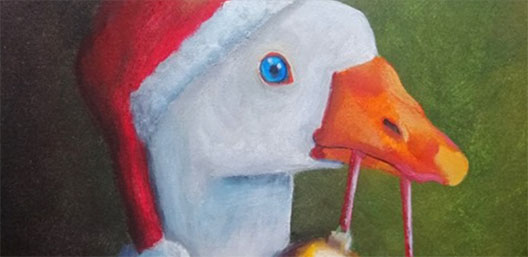 Bournemouth based "silly-billies" Plastic Jeezus have finally bitten the bullet and made their Christmas dreams come true by recording a Christmas EP. They wanted to be able to stand alongside acts like Slade, Mud, Mariah Carey and one of their idols the "Welsh Elvis" – Shakin' Stevens as having produced totally annoying songs that are wheeled out year after year. The Ep is called 'Utter Baubles' and the duo describes it as "these songs are Christmassier than a bottle of mince-pie flavoured Gaviscon! If you have an aversion to sleigh-bells, choirs and references to the eggnog you'll hate it".
Simon Fernand is normally the primary songwriter and has the credit of writing all of the classic Plastic Jeezus hits. However finally, Aaron Roberts; the man with a sense of humour drier than the Sahara Desert has written a song (round of applause please from everyone) and about time too I say. The song is entitled "Merry Christmas To My Cat" and Aaron thinks it might just be the best thing they've ever done, I believe Simon begs to differ. The EP was recorded at home by the duo and expertly mixed by Simon's Brother-in-Law Chris "Percy" Young, while Dave (not Noddy) Holder did all the mastering adding the final sprig of Christmas magic.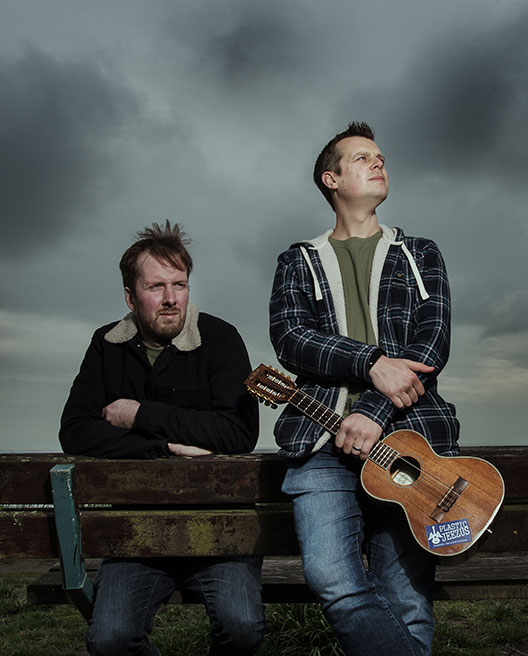 As you would expect from their previous offerings, the band have put together an infectious set of tunes that have clever lyrical bursts of comedy to keep you chuckling all the way through. It opens with 'The Office Christmas Party', a satirical look at a common practice we have all taken for granted previously. With the use of Ukulele, Glockenspiel and the customary jingled bells the tune bursts with Christmas cheer. The stunning highlight is the lyric 'Hector the director, has downed 10 pints of the amber nectar' creating all the atmosphere from such gatherings. Next up is "Finally Feeling Festive", a tune that hilariously details the frustrations that we all have at this time; these include shopping amongst the crowds and family arguments with the character "Ken" struggling to get in the festive mood. The track features an intricate Ukulele solo which sounds like an electric guitar when it's fed through a distortion pedal – this is clearly Simon showing his true Rock Star self.
We then get to Aaron's "Merry Christmas To My Cat" which just by its title is reminding me of the film "A Street Cat Named Bob". However, the song is sung by none other than Santa Claus himself (or is it one of his helpers??) and as proof you can hear him arriving on his sleigh at the start of the track. Be warned; even if you don't own a feline friend, listen to this track once and it will be stuck in your head for a very long time. "The Holby And The I.V." is a delightful sounding ditty, which sees Simon and Aaron sharing vocals on a tune all about medical BBC TV drama's Casualty & Holby City. Once again they find the creative ability to deliver a hook with another infectious chorus that again drills into your cranium like a lobotomy!
The EP will also be available on all the major streaming platforms as a four-track E.P. However, if you purchase it from the band's Bandcamp site (Link Below) as a download or as a hand-decorated CD; both will include a special cover version of "Merry Christmas Everyone" originally by Shakin' Stevens. It's a delightful collection of songs that is sure to put a smile on your faces and a spring in your step in readiness for the man in red's visit on Christmas Eve and be sure that no lockdown's gonna stop him from his deliveries.
Track-Listing
The Office Christmas Party
Finally Feeling Festive
Merry Christmas to my Cat
The Holby and the I.V.
Merry Christmas Everyone (Shakin Stevens)
Plastic Jeezus are
Simon Fernand – Vocals, Ukulele, Mandola, Glockenspiel, Percussion
Aaron Roberts – Vocals, Bass Guitar, Synth
Purchase the EP from the Plastic Jeezus Bandcamp site here.
Links
http://www.plasticjeezus.co.uk
https://www.facebook.com/PlasticJeezus
Words by David Chinery (Chinners).