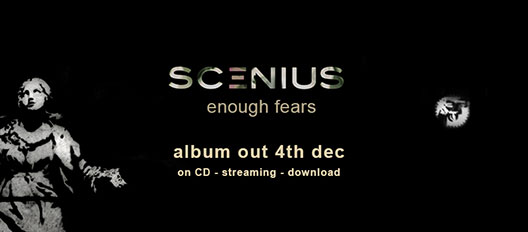 Scenius are a Dark/Pop cross channel Synth duo who release their debut album Enough Fears on the 4th December. We at Rock Regeneration are always looking for something different to get excited about and have decided to give this our critical ear! This 11 strong collection opens with "Make It Shiny". An Industrial-coated beat opens proceedings before a winding synth loop greets a precise vocal delivery. A subtle Electro drumbeat holds the main tempo throughout. Bleeps and loops pepper the musical parts but the layered vocal perfectly complements the instrumentation, while the echoed conclusion is a neat touch. 'Some of Your Nights' has a slightly more 80's feel, think pre-chart Soft Cell. This time around more soundscapes occupy the non-vocal parts. The choruses see a more expansive vocal offering but the heart of the song is in the synths.
"Wild and Wooly" returns to the dark Industrial landscapes during the intro, leading to a great vocal edit. I'm reminded briefly of Depeche Mode but with a more up to date vocal range. The ending however is truly wonderful. "Less Than Dreams" contains more 80's sounding synths with a clicky beat running throughout. Lots going on here amid the swirling beats, gentle vocals and loops. The bridge takes it down another route altogether while the vocal rises somewhat, where I'm briefly reminded of Tim Booth (James).

Title track "Enough Fears" features more synth wizardry – a dark chugging sound in the background accompanies a soft yet mature vocal. Somewhat downbeat in places, maybe a story-telling lyrical slant. Those synths chop and change throughout, leaving one wondering where the song will take you next? A haunting vocal part latterly comes to the fore, clearly a song of two halves. "Held" eerily reminds me of the intro music from "Twin Peaks", before subtly taking a detour into mellow chimes. If one were looking for music for relaxation then this is it – gentle, low tempo; with few lyrics. It then trickles to a slow conclusion.

"Superposes" sees Fabrice (vox) deliver in his native tongue (Francais) but that doesn't detract from Steve's (synths) now familiar and experimental keys and synths. Maybe a track to be played in underground clubs in France or the UK, where an understanding DJ might test the water with some new sounds?! "Cookie Cutter" starts slow but breaks out with a strong clear vocal. Steeped in 80's Electronica the swathes of synth almost drown the slightly muffled chorus as those waves take it to a sharp conclusion.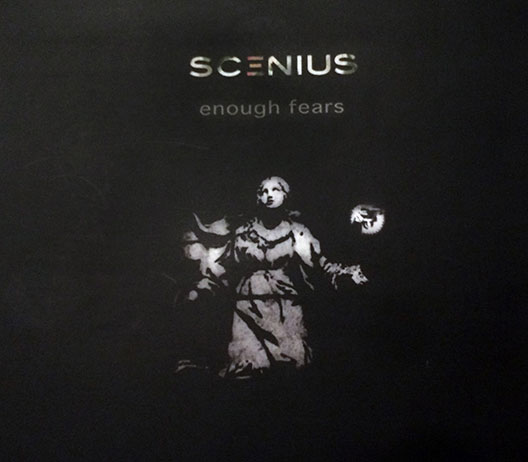 "Like Our Bones" again has echoes of Depeche Mode but Fabrice's vocal keeps the song true to the Scenius sound. The synths clatter and chime throughout on this Industrial-sounding number while Fabrice's vocals are clear and audible during this album highlight. "Stark Relief" begins with more than a nod to "Down In The Park" (Gary Numan). Fabrice's vocal then takes centre stage, allied to a simple enough synth beat. While slow and gentle an experimental bridge continues to meander in the background, while the vocal winds around that sound as it drifts to its conclusion.
"Darkest Lines" is a potent and direct song that lights up this album, with maybe a nod to future output. It's the only song on here (IMO) that has pure single release potential. Experimentation is minimal while the chorus is pure Synth/Pop, with another great ending.

Synth/Pop and other genres of a similar ilk are not what I normally put to review. However, Scenius have produced a fine body of work that will attract a niche audience. Sitting somewhere between New Romantic, Post/Punk and Dark Pop this duo create Experimental Synth/Pop songs that borrow from the past while creating structures anew. In the current climate it's difficult to stand out, but they clearly have something to build upon.
Track Listing
Make it Shiny
Some of Your Nights
Wild and Wooly
Less Than Dreams
Enough Fears
Held
Superposes
Cookie Cutter
Like Our Bones
Stark Relief
Darkest Lines
Links
https://www.facebook.com/sceniusband/
https://scenius.bandcamp.com
Review by Ross A. Ferrone.