News: Massive Wagons' Baz & Adam dive into the world of Beer for their latest exploits as The Beer Monkeys
on
November 27th, 2020
at
14:05


Baz & Adam, just two regular dudes that are out to better understand the drink they love so much, from the industry behemoths to the craftiest of craft beer. The guys have been pals for over a decade and their adventures take them around the globe! Now they invite us along for the ride, to share the good times both on the road and from the Beer Monkeys Shed HQ.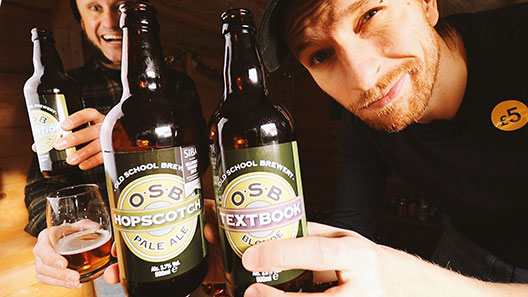 Here's what Baz has to say about it… All our adventures and mad schemes start over a beer, so we decided to make our next adventure all about it. as The Beer Monkeys we are out to learn and understand more about the drink we love so much, and while the beer industry is positively booming there's never been a better time to dive in. It's our hope that beer aficionados, as well as relative newbies to the stuff, will join us for our informal reviews, trips out, and get stuck in this barrel of laughs!

The Beer Monkey's are hitting this fast and hard with daily content all throughout December as they review the SOLD OUT Brew Dog Advent Calendar. One of the first frothy delights they will be reviewing is none other than The Darkness brand new ale 'Bells End' So if you like your beer then make sure you join The Beer Monkeys on their crusade! Sign up to their Youtube channel and join in the Monkey banter on their socials! Cheers!
Links
https://www.facebook.com/The-Beer-Monkeys-107095824571880
https://www.facebook.com/groups/756174234971647/