News: Amy Angel And The Hellraisers have released new album "Do It Again"
on
November 27th, 2020
at
13:55
out now on Die Laughing Records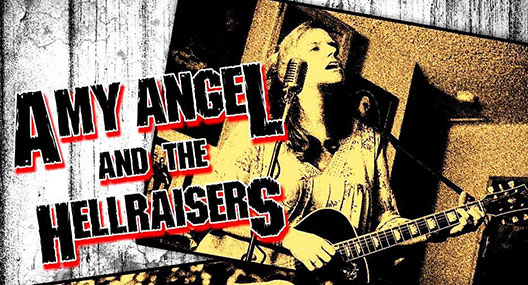 Amy Angel and the HellRaisers are straight outta the East Bay and they'll have you kickin' up your heels with their brand of Cow Punk! Their new LP Do It Again mixes country, punk, and psychobilly!  Do It Again is out now via Die Laughing Records and Amy will convince you that "It's Never Too Late!" It's catchy, upbeat and delivers a fresh yet nostalgic feeling.
Amy Angel and the HellRaisers began with a phone conversation between two longtime friends. Don Lamb had come up with some lyrics and was wondering if he could count on his old bandmate Tony Lourenco for the music. Tony and his wife, Amy, got busy and the rest is history! They got the band together with Amy on vocals; Tony on guitar; Don and Aaron Madsen sharing bass duty; and Mario Areias on drums. Aaron started recording at Amy and Tony's Bay Area home during the summer of 2017. This album is the culmination of the creative collaboration of a group of friends who have one thing in common: the love of making music.

Several years back, Don Lamb (Donny Midnite) and Tony Lourenco (Tony Sinsinatty) talked about doing a recording project and they brought in Amy Angel and started to collaborate.  Voila!  Amy Angel and the HellRaisers emerged, with some fine story-telling songs!
 
In the early 80s, a 14 year-old Amy Angel saw Mary Monday perform, and that started her singing and she's never stopped.  Her family moved to the country when she was 16 but performing with a band never left her dreams.  Amy plays piano, guitar, keyboards and a mean triangle!  Her influences range from Gregory Porter, Cécile McLorin Salvant, Thelonius Monk and Ella Fitzgerald to name just a few.
 
Tony Sinsinatty's influences range from the classics (Buck Owens and Dwight Yoakum) to the contemporary (The Paladins) to the ultra-current (The Hellflowers).  Back in the 70s, he formed The Street Punks with Don Lamb, in the first wave of punk that also included Crime, The Avengers and The Mutants and the Street Punks played the Mabuhay Gardens, The Palms, On Broadway, etc.  Tony provided backups and recorded with Mary Monday and he's often played in bands with his brother, Mike Tringali (The Next with Jimmy Crucifix). 

Don Lamb is a notable SF Bay Area musician who started playing bass in 1965.  As a teenager, he shared stages with The Yardbirds featuring Jimmy Page (Led Zeppelin)!  During his stint in Vietnam, Don formed Cornerstone and played shows with Eddie Money, Elvin Bishop, Journey and many others.  He formed The Street Punks in 1976 with Tony Lourenco, Rick Clare (Times Five/415 Records) and Kenny Cimino.  They were among the earliest East Bay punk bands and opened for The Dammed at the Mab!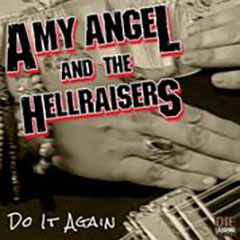 Line Up
Amy Angel – Vocals, Keyboard, Guitars
Tony Sinsinatty – Guitars, Vocals
Danny Dangerous – Drums
Osgood Cain III - Bass
Donny Midnite - Bass
Links
http://www.streetpunksdon.com/
https://www.facebook.com/amyangelandthehellraisers/