After the release of their debut single "Imagination", Bournemouth-based Rock band Skinny Knowledge are releasing another tune called "Keep Me Out Of It". The song along with "Imagination" will feature on the band's debut album Don't Turn Out The Lights, which is due out at the beginning of March this year. The new single was created with a writing collaboration between frontman Andy L Smooth and local singer/songwriter/performer Chris Payn. Andy and Chris have been friends since their childhood having played in various bands together. They have a brother-like relationship and Chris sent Andy the chorus via a WhatsApp message, after which they started creating the song and of course it fitted in perfectly.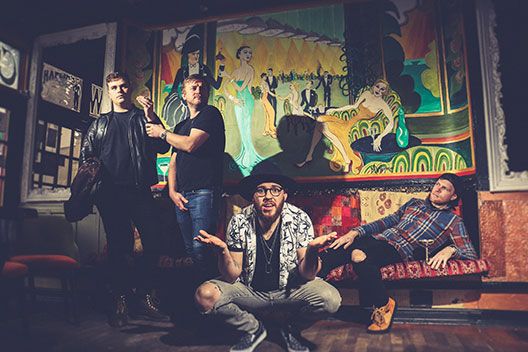 The track keeps up the fast-paced momentum created by the explosive first single, think of it along the lines of a Pop/Punk classic like something you would hear from New Found Glory or Green Day. It positively bounces along with well laid down, no-nonsense guitars; coupled with some infectious rhythms. It's one of those tunes that the first time you listen to it, it will stay with you for many days to come. I'm sure it's very worthy of being added to the playlists of many of the UK's Rock radio stations. The boat has been fully pushed out, with some great production from Lewis Johns at The Ranch Production House in Hampshire. "Keep Me Out Of It" like all the best songs this has a very simple message: don't put up with other people's bullshit, don't let it affect you because life is way too short for you to be miserable. Andy was inspired by a favourite quote from comic Ricky Gervis "life is a lot easier to deal with if you can laugh at it". The single is out on the 15th January and the album is out 5th March.
Skinny Knowledge are
Andy L Smooth – Vocals & Guitar
Benjamin Parker – Guitar
Thomas "Fenge" Davies – Bass
Charlie Kenny – Drums
Links
https://skinnyknowledge.co.uk
https://www.facebook.com/SkinnyKnowledge
Words by David Chinery (Chinners).