If you are looking for some music to inspire and uplift in these challenging times; you should look no further than Bournemouth Rock band "Skinny Knowledge", who release their debut album "Don't Turn Out The Lights" on March 5th 2021. In the run-up to this release, there has been a couple of impressive singles, "Imagination" and "Keep Me Out Of It" put out to whet the appetite. Bournemouth based frontman Andy Smooth and his hand-picked band of skilled musicians, took advantage of the experienced Hampshire producer/engineer Lewis Johns at The Ranch Production House to create the 14 track album.
Andy explains "I love music that truly makes you feel something. Music that's real and inspires you and others to move mountains; songs that leave you with a mark, and truly change your life… that's the benchmark. Artists with a message, artists with something to say… this is ground zero for me as a creative. It's what has got me through incredibly dark times, none more so than 2020." Andy's two favourite bands are the "Foo Fighters" and "Green Day"; his aim is to give the listener the same euphoric feeling he gets when listening to or watching them live.

Andy continues to say "the album is pure blood Rock n' Roll, tinged with Punk influences. However, peel back the layers and what you'll find at the centre is a big middle finger to a society that makes people feel like it's not okay to not be okay. A society that creates a tormenting image of false pretence that kicks us when we're down, rather than helping us back up. In a world full of tainted phone screens and technology, the songs presented on "Don't Turn Out The Lights" believe there's a place inside of all of us that's searching for some form of realism. This is honest rock n' roll in every essence. Thundering drums; roaring guitars, and a voice with something to say".
The album kicks off with the explosive title track, where the band sets out their stall from the start with a style that encapsulates a vast variety of influences. There is no guessing here, I'm sure anyone listening will have a good idea of what acts feature on the creator's Spotify playlists. The track smoulders for a few moments before the guitars slowly build and Andy's intense vocal powers up. This continues throughout the whole album with some really impressive creativity, the two singles "Imagination" and "Keep Me Out Of It" shows a band coming of age rather than putting out a debut record.
The rocking momentum of the album is only halted once throughout the whole of the 14 tracks. This is for a lighters in the air song "Wheel Of Love"; where the band show their much softer side, with just Andy's emotive vocal and piano accompaniment by long-time friend/collaborator Chris Payn. Andy explains that the song was inspired by a very important moment in my life: "I started writing the song a couple of days after getting engaged to my partner Jaz. I proposed on the Ferris wheel at Winter Wonderland in London, hence the 'Wheel of Love' and floating through a wonderland"

Along with a short stop for a "Heavy Metal Interlude" the album just flows beautifully with not a bad track present. It's clear they have taken a lot of time in getting everything correctly aligned, to make sure their debut is top-notch. It appears that no stone has been left unturned during their creation process. It's certainly one of the best debut albums I have heard from any band in a very long while, the only difficulty I have with this is how they can possibly follow something that is so good.
The band have a special online release show on the 5th March and tickets can be purchased here: https://www.facebook.com/events/238071051304826. I suggest you join them, it will remind you how much you are missing live music and show an in-form band who will take your mind away from these difficult times.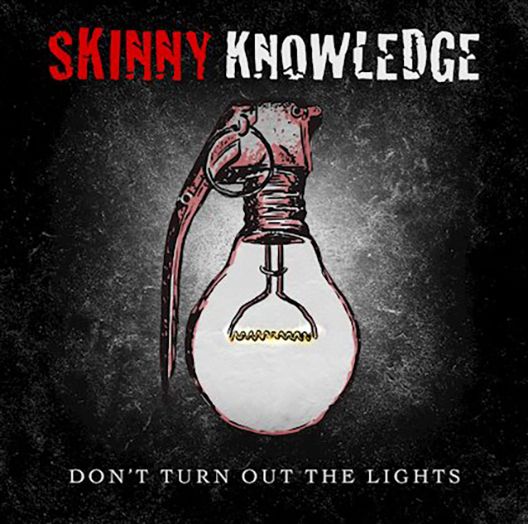 Tracklist
Don't Turn Out the Lights
Imagination
Alive
King of Nothing
Keep Me Out Of It
Not Coming Down
Getaway
Sayonara
Wheel of Love
This Time
Make a Change
Take the Blame
Heavy Metal Interlude
Stand Alone
Skinny Knowledge is
Andy L Smooth – Vocals/Guitar
Benjamin Parker – Guitar
Fenge Davies – Bass Guitar
Charlie Kenny – Drums
Links
https://skinnyknowledge.co.uk
https://www.facebook.com/SkinnyKnowledge
Words by David Chinery (Chinners)