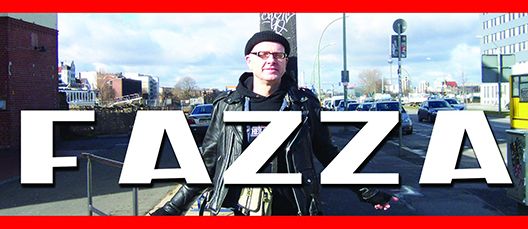 Bournemouth music lover Faren Short has been living with the knowledge that he has incurable cancer for some time now and sadly only has weeks/months left to live. Faren is a legend on the local Dorset/Hamshire music scene, where he usually racks up about 300 gigs a year; taking in an eclectic set of gigs in venues across the South of England. His illness and the pandemic has put a stop to his musical adventures, however, his passion still burns strong and at home Faren has taken to social media with the help of his brother John (as Faren only has an antiquated phone that should be in a museum) to tell everybody of his past adventures.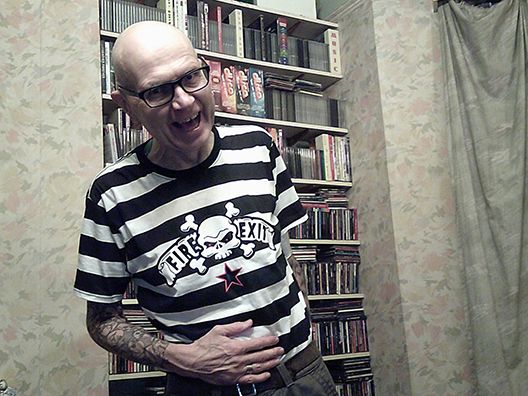 In tribute to this much-loved character, his band of musical friends with help of C-30's/Self Abuse frontman Andy Nazer and Moonbeams/The Seventynine keyboard player have put together a homemade video of them all performing the Sex Pistols "Anarchy In The UK". Local Punk band The Mistakes have dedicated their great new album "A Head Full Of Damage" to him and said some very nice words about him.
Faren has also had the honour of having a stage at the Rebellion Festival in Blackpool named after him. The four-day weekend Punk festival in Blackpool has the much-coveted "Sunday Morning Hangover" slot .. which is the first slot of the day on the Rebellion Introducing Stage and is an invite-only one for a special band each year…. it's also just as much for the hardcore people who are still up and at it early after 4 days ….. This will now be known as "Faren's Slot" as he is what you call a hardcore gig-goer to say the least, who always champions new acts with much enthusiasm.
Faren I am proud to say, is a big fan of our Rock Regeneration website and in particular our gig guide and he used to message me on a regular basis to inform me of corrections to our gig guide. Apparently, he used to study the gig guide to plan his weekly musical adventures! He has also agreed to do a brief interview to tell us a bit more about his past adventures:
Chinners: How many gigs have you actually been too?
Faren: 3,038. The top ten bands I have seen are: Suzi Quatro 222, UK Subs 79, Meat Draw/The Seventynine 66, Self Abuse 60, The C30s 58 , The Lillettes/The Tena Ladies 55, The Sporadics 49, The Demonic Upchucks 41, Language Timothy 40 & 999 40

Chinners: Tell us about a couple of your favourite gigs?
Faren: My two favourites were the two charity gigs I put on for my 50th (at Champions, Bournemouth) and 60th (Chaplin's Cellar Bar). Around 12 legendary local bands performed at each with Intestines and Lillettes both reforming for the first one. We also raised a good chunk of change for charity.
Chinners: Who have been your favourite musicians?
Faren: My favourite musicians are Rockbitch (and offshoots), Lene Lovich and Suzi Quatro – because they are the best! Locally I will have to give special mention to Lillettes and Andy Nazer. I was lucky enough to meet all these people. The friendliest famous pop star I ever met was Alvin Stardust.
Chinners: Where is your favourite music venue?
Faren: Chaplins Cellar Bar, Boscombe without doubt – it's close to where I live and I have been to 432 gigs there, probably more than owner Harry Seccombe!

Chinners: How would you like to be remembered?
Faren: I would like to be remembered as a nice guy.
Chinners: What message would you like to give to all your friends?
Faren: There will be a special message for all my friends on the Faren's Friends Facebook page when I'm gone; but basically when you think about me, think about the good times we had together."

Faren has requested that Ross Ferrone and I put on a gig in his honour to celebrate his life, he has given us instructions of all the acts that he wants to include. We have both promised Faren that we will make this happen when we are able and make it one of the biggest Punk parties Bournemouth has ever seen.
If you want to send a message of support to Faren send them to him via his Facebook group Faren's Friends here.
Interview by David Chinery (Chinners).