News: Last Hyena Release "How Soon Is Mars"
on
March 5th, 2021
at
19:27

Formed in 2017, Last Hyena came together during their university years with the goal of leaving preconceived styles of music and tired notions of genre to the history books. The result has been a breathtaking sonic roadmap that's set to open a new chapter with their debut album How Soon Is Mars?, a celestial exploration of sound that's set for release 30th April 2021 through Stereobrain Records.
Plugged deeply into the vibrant and inspiring music scene of Bristol, spurred on by that rich influence Last Hyena began their latest project with simple intentions—to create music that was at times challenging for both the creator and the listener, but would ultimately be deeply rewarding. Initially hoping to bring onboard a vocalist, the trio quickly became enamoured with the amount of freedom that instrumental music offered them.
"We ended up loving the amount of space in a song that we could play around with, so we decided against having a vocalist," the band explain. "We always have a strange approach to writing songs. There are no pre-written riffs, no "guys, I've written a song". The three of us sit in the practice studio and just start picking each other's brains for sections. When we have something that interests us we spend some time changing time signatures and adding stops and pushes, this then will make up a few bars of music before we decide we want to go into something else."

Thematically, the trio keep their cards close to their chest—with no lyrics or vocals, their music is by its very nature pure expression of emotion, but that doesn't mean it's devoid of meaning. "All of our songs have their own meanings and stories behind them," explain the band, "but we feel they are all very contextual to the listener, and we like to see what it means to them rather than offering the story behind them. There is a recurring space-like theme throughout the album, however, this wasn't planned—we actually didn't have a name for the album set in stone until after we finished recording it."
Forthcoming debut album How Soon Is Mars? was brought to life at Trapdoor Studios in Liverpool with Tom Peters (Wot Gorilla?, Alpha Male Tea Party, The Hyena Kill, Cleft, Body Hound) at the production helm, a period which the band described as "non-stop creative process from start to finish. We spent a solid week in the recording studio trying to make the album sound as big as possible."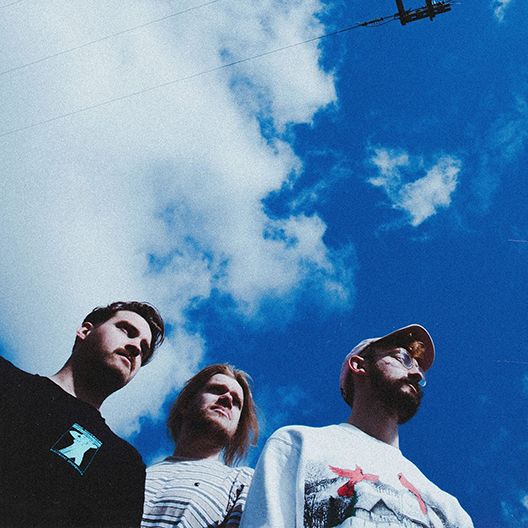 The album itself is an ambitious piece of work that documents the band's ongoing evolution from their previous releases, 2017's self-titled EP, and the I Remember The Future EP (2018). Its celestial soundtrack takes listeners on a journey through the galaxies of prog, post-rock and math-rock with moments of awe and wonder, jarring discordance, and gigantic soundscapes. "We've been described in the past as "too math for post-rock, and too post for math rock' and we believe this is the best way to initially describe our music," laugh the band.
Whilst the three-piece's music has its roots firmly planted in the progressive/post-rock world, there are indeed strong elements of math, hardcore and even jazz that shine through. Together with influences of Frank Zappa, Colour and Delta Sleep, Last Hyena's work amounts to an often surprising, yet gratifying, listening experience.
Having now begun to engineer significant inroads with specialist press and radio, the band are chomping at the bit to unleash their transcendental live show on the public once again. "As you can imagine, not touring has been hell on earth for us," they sigh. "Playing shows is by far our favourite thing to do, but thankfully we still had the album to release so it's all been go in camp Hyena this year."
With a highly-anticipated pre-release hometown show soon to be unveiled, and a slot at the coveted ArcTanGent festival, the band are setting themselves up nicely to be one of the great breakthrough progressive acts of 2021.
How Soon Is Mars is released 30th April 2021 through Stereobrain Records.
Links
https://lasthyena.bandcamp.com
https://www.facebook.com/lasthyena