News: Hot Laundry Release "Shake Slide Twist"
on
April 13th, 2021
at
19:34

San Francisco based Garage Rock act Hot Laundry have released their new EP Shake Slide Twist, out now via Die Laughing Records.
Hot Laundry Hit you with Hi-Octane Rock n Roll, hints of Motown, revved up guitars in the vein of MC5 and a heavy dash of Delta Boogie. Shake Slide Twist is available now on all digital platforms.
Hail, Hail, Hail, the Garage Soul Sensation, Hot Laundry. Revitalizing, energizing, heart stomping, soul-lifting good time. Hot Laundry grips your attention in a sonic tonic, making you thirsty for another round. The 4 song EP picks you up and doesn't let you down. Turn it up, let it out! Hail, Hail, Hail!!

Hot Laundry is a San Francisco outfit that is kicking out a fresh new take on our beloved rock n roll. Lead singer Janette Lopez will help you forget your worries and have you howling at the moon by the end of the night. Backed up by her always lovely backup singers and dancers. Ileath Bridges and Gena Serey are 100% genuine rock n roll. Sending you back to the 1960s bad girl garage band days. Hot Laundry is serving up working-class music. With lyrics reflecting hard work, hard times, love, and dancing all night. – Hot Laundry is rock n roll for your soul.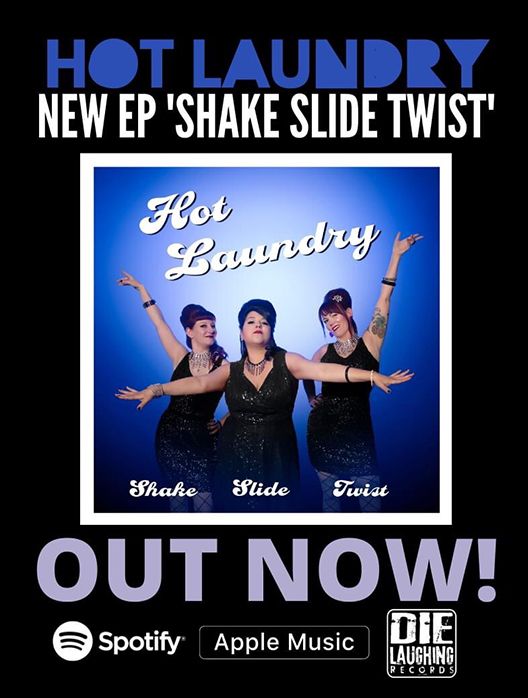 Hot Laundry are
Janette Lopez, Lead Vocals
Grady Hord, Guitar and Vocals
Neil Young, Bass Guitar
Thor DSR, Drums
Ileath Bridges, Backup Vocals
Gena Serey, Backup Vocals
Link
https://www.facebook.com/hotlaundry