News: Watchet Festival receives £75k Culture Recovery Funding
on
April 7th, 2021
at
18:44
confirms intention to take place between Friday 27th – Sunday August 29th 2021

Featuring
GABRIELLE | SISTER SLEDGE* | SHED SEVEN | TOYAH | THE BLOCKHEADS | SOUND OF THE SIRENS | OH MY GOD! IT'S THE CHURCH | THE SOUTH | FUTURE DUB ORCHESTRA | HANDS OFF GRETEL | BAR STEWARD SONS OF VAL DOONICAN | DR MEAKER | THE LEYLINES | THE HAWKMEN | RUPERT STROUD
Plus, as always, our house band….THE WURZELS
Watchet LIVE CIC to receive £75,000 from second round of the Government's Culture Recovery Fund. The Grant allows us to re-confirm plans for Watchet Festival 2021, in line with the government's roadmap for easing restrictions.
Watchet is among more than 2,700 recipients to benefit from the latest round of awards from the £1.57 billion Culture Recovery Fund. The Funding assures the future of all events organised by Watchet LIVE CIC, 
including both Watchet Music Festival & Watchet Carnival. The Vast majority of Watchet Festival 2021 line up confirmed to carry over from last year's cancelled event, with major acts including Gabrielle, Shed 7, Toyah, The Blockheads, Sister Sledge* (*travel restrictions permitting) and many more. All 2020 ticket purchases remain valid for 2021, with remaining tickets back on sale on from 1 May 2021. This award paves the way towards staging this year's Watchet Music Festival, returning after last year's cancelled event, to its rightful place over the late August Bank Holiday.
The grant provides the festival with a lifeline to offset any unforeseen Covid-related costs, or the possibility that a reduced capacity event may lead to a shortfall in ticket income, and will also provide critical assurance for our many suppliers (many of whom are independent local businesses) and artists alike, that we are viable for the future. More than £300 million has been awarded to thousands of cultural organisations across the country, including Watchet LIVE CIC in the latest round of support from the Culture Recovery Fund, the Culture Secretary has announced. Currently Watchet Live is working with four other Somerset festivals to produce a Covid based event safety plan. We are closely working with and seeking advice from the local authority on guidance going forward, following the Government road map recovery plan. This award also safeguards the future of all the other community events organised by Watchet LIVE CIC, ensuring the town remains a vibrant and diverse place to live and visit.
Watchet CIC representative Mark Bale, says:
"All of us involved with Watchet LIVE are honoured to be awarded this grant. The past 12 months has created so much uncertainty for the future of our community events, so this secures the future of Watchet Festival for 2021 and into the years ahead. As we have never had the need to apply or rely on funding in the past, being awarded this grant shows to us that the wider performing arts community recognise and have faith in what Watchet LIVE CIC means to the West Somerset area. Restrictions permitting, we cannot wait to welcome friends from near and far back to our award-winning festival this August Bank Holiday weekend."
Sir Nicholas Serota, Chair, Arts Council England, said:
"Investing in a thriving cultural sector at the heart of communities is a vital part of helping the whole country to recover from the pandemic. These grants will help to re-open theatres, concert halls, and museums and will give artists and companies the opportunity to begin making new work.
The funding awarded today is from a £400 million pot which was held back last year to ensure the Culture Recovery Fund could continue to help organisations in need as the public health picture changed. The funding has been awarded by Arts Council England, as well as Historic England and National Lottery Heritage Fund and the British Film Institute."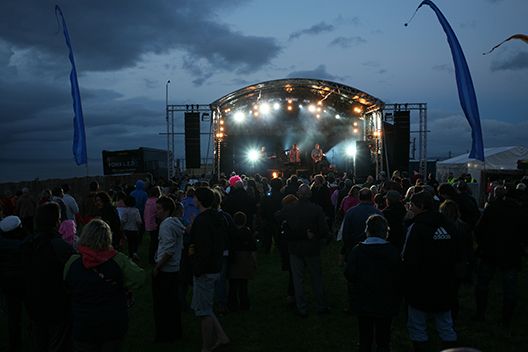 Watchet Festival is a not-for-profit family festival with amazing views of the West Somerset coastline and beyond. Three live stages host more than 60 live acts, bringing a wide range of high-calibre musical acts not normally found performing in West Somerset, at a very affordable price.

Watchet 2021 is set to continue the festival's tradition of completely selling out in advance.
Whilst 2021 ticket sales are currently suspended, remaining tickets will be placed back on sale from 1st May, fixed at 2020 prices. All tickets previously purchased for 2020 remain valid for 2021. Please note all on-side Camper van tickets have already sold out.
Alongside an incredible line-up and a wide variety of high-quality food stalls, the extensive in-house Cider and Real Ale Bar prices are kept as low as possible, providing one of the best-value refreshments offerings to be found at any event in the UK.
Watchet LIVE Festival will once again support a wide variety of local charities.
WATCHET FESTIVAL 2021
Ticket sales resume 1 May 2021
Weekend Tickets (includes camping)
£90 (Adults 16+), £75 (Youths 13-15), £275 (Family Weekend Ticket – 2 Adults & 2 Youths)
Weekend Tickets (no camping)
£77.50 (Adults 16+), £60 (Youths 13-15), £250 (Family Weekend Ticket)
Parking
Cars £10, Campervans SOLD OUT
Purchase Tickets here.
Links
https://www.watchetfestival.co.uk/
https://www.facebook.com/Watchet-Music-Festival-23624222102