News: NWOCR Announce The Official New Wave Of Classic Rock CD Compilation – Volume 1
on
April 7th, 2021
at
18:38


One of the fastest-growing movements in rock music has confirmed they will be releasing a 2CD compilation album in July. This exclusive release is accompanied by special merchandise and is available to pre-order now. Featuring 42 white hot tracks, "The Official New Wave Of Classic Rock – Volume 1" is a double CD compilation album that features a selection of the best and current NWOCR artists that have been carefully curated by the NWOCR team and RPM – Rock People Management.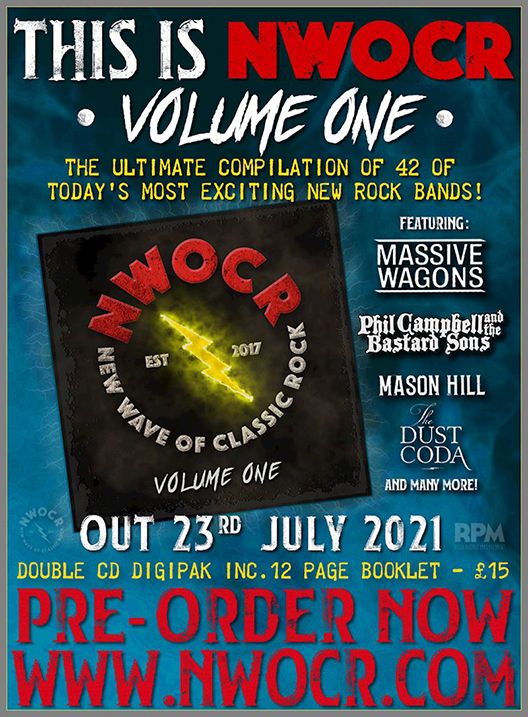 Music artists featured on this forthcoming release include official chartbusters Massive Wagons, Mason Hill and The Dust Coda, the legendary Phil Campbell, plus other fan favourites including The New Roses, Elles Bailey, Bad Touch, Skam, Empyre, Thundermother, Massive and many more! Massive Wagons frontman Baz Mills says, "It blows my mind how fast the NWOCR thing has grown! It's literally exploded! They shine a real bright light on new bands all over the world, and it's a real honour to be a part of this official NWOCR compilation album!"
The 2CD album will be accompanied by a special t-shirt, plus NWOCR "Class of 2021" tea towel, to help commemorate the occasion.
Purchase here.
Bands and artists featured on the new NWOCR album include:
Anchor Lane
Ashen Reach
Bad Touch
Bastette
Blackwater Conspiracy
Bootyard Bandits
Collateral
Daxx & Roxane
Dead Man's Whiskey
Dig Lazarus
Doomsday Outlaw
Elles Bailey
Empyre
Everyday Heroes
Gin Annie
Gorilla Riot
Häxan
Hollowstar
Jack J Hutchinson
King Creature
Mason Hill
Massive
Massive Wagons
Phil Campbell & The Bastard Sons
Revival Black
Rews
Ryders Creed
Scarlet Rebels
Shape Of Water
Skam
Sons Of Liberty
South Of Salem
Takeaway Thieves
The Dust Coda
The Hot Damn
The New Roses
These Wicked Rivers
Thundermother
Tomorrow Is Lost
Twister
Ward XVI
Wolf Jaw
Links
https://www.nwocr.com
https://www.facebook.com/groups/NWOCR