News: Beach Riot Release New Album "Subatomic Party Cool"
on
August 9th, 2021
at
16:36
on 17th September 2021

Beach Riot guitarist/vocalist Cami is no stranger to a leap of faith. Moving to London from a remote horse farm in her native Argentina, (raising her plane ticket money by gambling on horse races) it seems like a logical next step that she might be drawn to the bright lights, beaches, donkey rides, sublime public houses, and bustling music scene of Brighton.
"In 2017 Rory, who was a stranger to me at the time, messaged me on Facebook saying 'hey do you wanna be in my band?'," Cami explains. "He sent me a couple of demos that he recorded in a studio with his friends Jim and Jonny. (Album track) B.A.D was one of them, and it's still one of my favourite songs on the record."
Initially based in London, after many failed jams attempting to flesh out the band's line up the pair realised that the answer to their personnel problems was right underneath their noses the whole time. "Me and Jim had been in a band years back, and he was essentially my musical idol ever since," explains Rory. "It just so happened that Jim came as a pair with Jonny. We spent a couple of weeks in London until Cami basically said 'what the fuck are you doing…no one is as good as Jim and Jonny', and so Beach Riot was officially born!"
The band released their debut self-titled EP in 2018 to widespread acclaim from the press and a ripple of underground excitement. Subsequently snapped up and signed to Alcopop! Records, their forthcoming debut album Subatomic Party Cool has been over three years in the making, with the band keen to take their time on getting things just the way they wanted them."The pot has been simmering for a while with this album and it's allowed us to finally dish up a collection of songs that truly reflects our mix of tastes and personal oddities of character," enthuses Jim. "On listening to the vinyl test pressing together it struck me what a perfect representation the album is of this mad journey we've had up to this point."
"It's definitely been a dream of mine, personally, to have a proper album on a cool label," adds Rory. "I always knew we would, and that when we did it would be something to be immensely proud of. And for sure, being able to do one now rather than a couple of years ago means that we have a nice strong collection of songs that are nicely developed."

It's safe to say that Subatomic Party Cool is a debut for which it was well worth the wait—a record that's jam-packed with quality songwriting and enormous riffs, one after another, and hits a wide range of musical touchstones along the way. "Everyone needs their unattainable gods and goddesses to chase after. Polly Jean Harvey and Soléy are mine," confesses Jim of his influences, whilst Jonny's drum idols are John Bonham, Dave Grohl, and Mitch Mitchell, and Cami is a Radiohead fanatic.
"Beach Riot is what you get when a gang of people go through some heavy stuff together and literally hold each other in the saddle," says Jim. "It has been far from an easy road to get to this point, but who'd have thought that four people's combined passion for something as intangible as making sounds together could have given us such a profound sense of purpose and belonging? What a thing, to have this experience with your mates that allows you to express yourself, however dark, dumb, cheesy or sentimental you might be feeling. There is no agenda or hidden motive that we've lashed ourselves to in Beach Riot. You are basically listening to our lives…through a fuzzy, pop filter."
"Moving from the other side of the world to pursue a career in music, there were many times I thought of quitting and going back," adds Cami on the quartet's special sense of camaraderie, "but now I'm in a band with very talented people who write bangers, who also happen to be very cool dudes."
Subatomic Party Cool was recorded in 2020 and produced by Ally Jowett at his home studio in Brighton, with matters complicated somewhat by the recent global pandemic."We'd heard a track Ally had worked on with another band and we immediately just said 'that's the guy!'," says Jim of working with the producer. "Rory and Cami would visit Ally at home where he has a newly built studio. We were mid pandemic so I missed out on studio fun times and blasted my bass takes out in the midnight hours at home. All my backing vocals were recorded in a shed. Or to be more precise, Rory's coffee shack where he works!"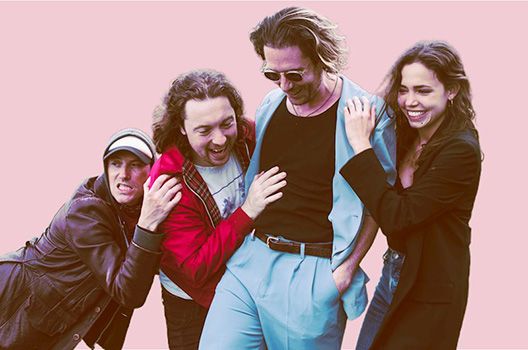 "I loved going to Ally's studio," remembers Cami. "We were mid pandemic, nothing else was going on, so it was such a lifesaver to my mental state, to have the opportunity to go somewhere to record music for a few days. We would arrive in the morning and Ally would be waiting for us with a cuppa and we would sit outside in the garden to get some rays of sun and some quiet time before making a lot of noise for the rest of the day. Good times."
So far making their name with a particular brand of fuzzed-up pop-rock, Subatomic Party Cool sees heavier and more disparate elements creeping in at the edges, something that Rory attributes mostly to production decisions, as he explains: "I definitely wanted to move away from just big old crashing cymbals over a rock riff. I'm obsessed with a fuzzy chunky monster riff juxtaposed with a pop tambourine instead of cymbals, and some repetitive school playground melody." When it comes to subject matter, Jim's songwriting springs mostly from a well of notes of encouragement and consolation "addressed to myself and anyone else who finds themselves in the same boat of life's woes".
"In a way I actually think I process old feelings through current songs," says Rory of his own writing process, "even distant long-forgotten relationships that I really don't care about, but the way I felt at the time I can still remember. It's almost like therapy talking about this person that is actually your old self."
As is true for all of us, experiencing the pandemic during the album process affected the band members in different ways. For Jim, it meant he "got to explore my own mind as I was essentially losing it, while everyone else in the world was losing theirs too." For Jonny it was about learning different ways to make the creative process work, "and we're only stronger for it", he asserts. Cami enjoyed having time on her hands to revisit old songs and see what details she could add, whilst for Rory the frustration was not being able to get together as a band and record in the same room.
"In a way we turned that into a positive of not being up against it time-wise, and finding fun inventive ways to record," he reflects. "I think having this album to focus on really helped us all feel like we still had something happening as a band—we were still relevant, and honestly, being able to make music with my pals was more than I could have hoped for during the low times."
One of the key things the band have missed over the past 18 months is performing live, and it's apparent that they're absolutely chomping at the bit to play these tracks to an audience on their upcoming winter 2021 UK tour dates.
"The best moments of our lives have been in that environment on and off the stage," says Jim. "It's where you meet the people that become your future and a place to exorcise old demons that have outstayed their welcome. Recording is good—you become a sonic sculptor, it's a totally rewarding form of art making, but playing live…that's something else entirely."
"For me it's almost more important," adds Rory. "It's just something we've always prided ourselves on, mainly I think because that's where we really come into our own. We feel at ease on stage, playing these songs together. It really is the best feeling. When we're in that place together and you really feel that energy between us, that's literally everything for me. Throw in a moshy sweaty crowd and there's not much more in life I want."
Subatomic Party Cool is released 17th September 2021 via Alcopop! Records
2021 UK Subatomic Party Cool Tour Dates
NOVEMBER
24 – Milton Keynes – Craufurd Arms
25 – Newcastle – Head of Steam
26 – Inverness – Mad Hatters
27 – Glasgow – The Hug & Pint
30 – Edinburgh – Sneaky Pete's
DECEMBER
1 – Manchester – Gullivers
2 – Liverpool – Jimmy's
3 – Leeds – Hyde Park Book Club
4 – Blackpool – Bootleg Social
7 – Sheffield – Record Junkee
8 – Leicester – The Cookie
9 – Birmingham – Dead Wax
10- Bristol – The Lanes
11 -Guildford – The Boileroom
14- Norwich – Voodoo Daddy's
15- London – The Lexington
16- Brighton – The Prince Albert
BEACH RIOT are
Rory (Guitars and Vocals)
Cami (Guitar and Vocals)
Jim (Bass and Vocals)
Jonny (Drums)
Links
https://www.facebook.com/wearebeachriot
https://www.instagram.com/wearebeachriot
https://twitter.com/wearebeachriot