News: Rock Regeneration Announces "Fazza Fest"
on
September 12th, 2021
at
13:30

Rock Regeneration's Ross & Chinners Announce Fazza Fest in memory of their good friend and gig-going buddy Faren Short, who sadly passed away recently……
To be held at the Madding Crowd, Bournemouth on Friday 29th & Saturday 30th October 2021
Faren (Fazza) Short was obsessed with music and particularly the live experience, attending thousands of gigs throughout his life supporting national and local bands. He died earlier this year after a brave and dignified battle with cancer, his legacy is one big party to celebrate his life featuring local live music from bands picked by Faren himself. His request was that all the funds from the event go to the Sophie Lancaster Foundation; a charity that was very close to his heart, supporting personal diversity.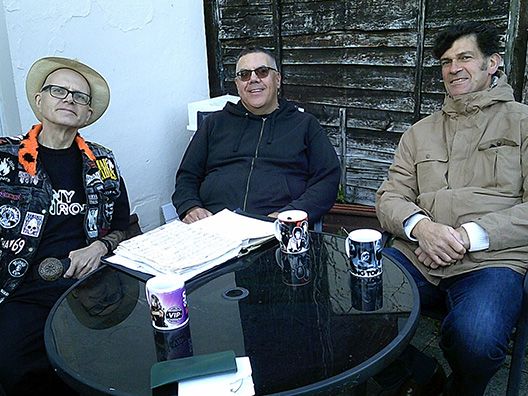 Friends David Chinery (Chinners) and Ross A. Ferrone were given a letter after Faren's death and asked to put this fitting celebration together, including a raffle featuring band merchandise and gig tickets along with a sale of some of Faren's own homemade Punk waistcoats/t-shirts.
The musical line up is as follows:
Friday From 7pm
Surfin Dave
KIll the Colossi
Skaema
The Jimmy Hillbillies
The Sporadics
Saturday from 12pm
Meat Sweats
Die IV You
Brash Bullets
Plastic Jeezus
The 79
C-30's
Menace
The Glorias
Trickster
Gutter Rats
The Mistakes
Before Faren passed away a group of his friends got together and made a video of the Sex Pistols classic 'Anarchy in the UK', which was also released on a 7″ vinyl. See the videos below for the hilarious results……
Video



Hear an interview with Faren we did in February here.