News: Hangover Hill Presents Veterans Aid Weekend Festival – 1st-3rd July 2022
on
March 9th, 2022
at
20:52
at The Meadows's Julian's Road, Julian's Bridge, Wimborne…..

From Hangover Hill Studio Matt Black & Mel Berkhauer organisers of the popular Live & Unheard and Hangover Hill Presents bring you Veterans Aid. The event's aim is to raise funds to help and support the large amount of Homeless Veterans that we have in this country. The charity "Helping Homeless Veterans UK" was formed in September 2019 due to the sheer problems a large number of Veterans were finding themselves in without having a place to call home. David Wood the Charity CEO has extensive knowledge and experience of housing veterans using legislation that is available with local authorities and since our formation over 210 Veterans have been helped and advised by our charity and the workload never decreases. Everyone involved in Helping Homeless Veterans UK are volunteers with nobody taking a penny and that is because they are passionate about what they do and can achieve.
Hangover Hill Presents bring amazing lineup of quality local and national musicians and bands to an ideal rural location situated on the banks on the picturesque River Stour on the outskirts of the historic Dorset village of Wimborne. The Hangover Hill team look forward to welcoming everyone to support the Veterans Aid For Homeless Veterans 2022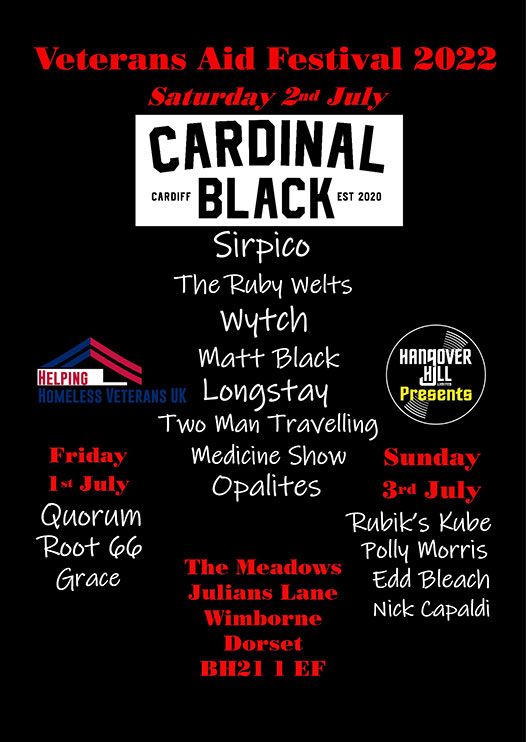 Line- Up
Friday 1st July
9.30 – 10.30pm – Quorum
8 – 9pm – Root 66
7 – 7.30pm – Grace
Saturday 2nd July
10.30 – 11.30pm – Cardinal Black
9 – 10pm – Sirpico
7.30 – 8.30pm – Jazz Wrann & The Ruby Welts
6 – 7pm – Wytch
4.30 – 5.30pm – Matt Black
3 – 4pm – Longstay
1.30 – 2.30pm – The Two Man Travelling Medicine Show
12 – 1pm – Opalites
Sunday 3rd July
4.30 – 5.30pm – Rubiks Cube
3 – 4pm – Polly Morris Band
1.30 – 2.30pm – Edd Bleach Duo
12 – 1pm – Nick Capaldi
Festival Address
Julian's Bridge
Julians Road
Wimborne
Dorset
BH21 1EF
Purchase Your Tickets here.
Links
https://www.facebook.com/hangoverhill
https://www.facebook.com/hangoverhillpresents
http://www.hangoverhill.co.uk