Allendale Centre, Wimborne
The Seed of the idea came from Matt Black and Mel Berkhauer, a couple of music entrepreneurs who are behind various successful ventures of Hangover Hill Studios and Live & Unheard local music showcases. I have worked with them both on many occasions and we have built up a fantastic friendship over a combined love for the local music scene. We arranged a meeting in my local pub, where Matt had played a gig earlier that month to sit down and talk about bringing their idea to life. Over dinner we discussed our ideas for the event, the costs involved, the Award categories and Matt told of his plan for the location at the Allendale Centre in Wimborne.
It was agreed I was to form a team of other suitable local music supporters to help with the selection process after consulting a host of local venues & pubs on the possible nominees. Feeling like Yul Brynner in the Magnificent 7 I had to recruit 4 likely suspects to help with the selection process. This was really easy as it was clear from the start who I wanted to help as they have previously displayed the same passion for the local scene as myself. After that a Facebook message group was set up for our various discussions and a few nerve racking face to face meetings to sort out the nominees and eventual winners.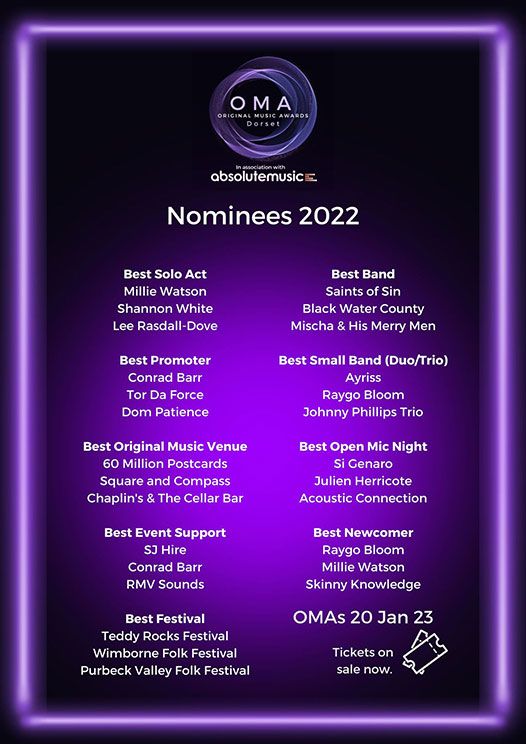 The evening itself exceeded our expectations and everybody took on board the whole spirit of the event. Matt compèred the night with comedy and a relaxed style as winners took to the stage, with some fantastic graphics used to inform everybody who had won. The night featured some fantastic performances from two local bands that have always impressed at events that they have played previously. The Andy Grant Trio and The Two Man Travelling Medicine Show put in quality performances, while the guests were treated to a tasty two-course meal.
Matt's words summed up the evening "It's not about being the best, it is about coming together and celebrating everyone's talent and passion for music. We have included people who support the industry such as venues and productions companies as well as musicians. It is great to see an idea come to life with such enthusiasm and engagement."
I personally loved every moment that the evening had to offer and I got emotional on several occasions as various awards were given out. To be in this room was an amazing feeling; which was chock full of some amazing talent and full of a huge amount friends I have made over the many years I have been enjoying the local Dorset Music Scene.
Of course being the first year, there were some mistakes made and the event has also been a learning process for us all. It will be back next year and I promise you it will be bigger and better than this year with a few subtle changes and we will cast our net further afield to capture some more of the great talent that Dorset has to offer.
The OMAs, now flying the flag among the industry, demonstrated how the regional music scene is thriving. Myself, Matt and Mel urge everyone to support local live music by attending shows, downloading original music and sharing social media updates. If you wish to be considered for an award next year please keep us posted of your gigs and releases at the Original Music Awards Facebook page. (See Link Below)
The local Dorset music scene though is the main winner!!!
Original Music Awards Dorset Results…
| | |
| --- | --- |
| Best Solo Act | Lee Rasdall-Dove |
| Best Promoter | Dom Patience |
| Best Original Music Venue | Chaplin's & the Cellar Bar |
| Best Event Support | RMV Sounds |
| Best Festival | Wimborne Minster Folk Festival |
| Best Small Band | Raygo Bloom |
| Best Open Mic Night | The Acoustic Connection – Kez Hinton & Elaine Richmond |
| Best Newcomer | Millie Watson |
| Best Band | Black Water County |
Special Recognition Awards
Tom Newton
Tor Da Force of We Broke Free
Conrad Barr
Roxanne Phillips
The Boldre Crew
Thanks to all our wonderful sponsors Absolute Music, Vocalzone, Lighthouse Poole, Musicians' Union, Forest FM, D.A.L Productions and Thomas Tripp Christchurch.
Links
https://www.facebook.com/OriginalMusicAwards
https://hangoverhill.co.uk
Words by David Chinery (Chinners).
All Photography by Lynn Burt of Lynn Frances Photography.