Dorset's progressive masters "Galahad" return with their twelfth studio offering entitled "The Long Goodbye". The album was recorded during the same sessions of the band's last release "The Last Great Adventurer" before, during and after the recent Covid pandemic. The album features Stu Nicholson (vocals), Dean Baker (keyboards) and Spencer Luckman (drums), Lee Abraham (guitars) and Mark Spencer (bass guitar). The album once again was created with the help of engineer/producer extraordinaire Karl Groom who edited, mixed and mastered this new creation. Lead singer Stu explains "The Long Goodbye' has a crisp and clear contemporary production but still includes a variety of influences including a few nods to the band's progressive heritage, particularly the epic closing title track in which the ageing process and the difficult and tricky subject of early onset dementia is tackled – hopefully with a certain degree of poignancy".
Track One
This opus opens with "Behind the Veil of a Smile", a track about toxic friendships or rather when friendships sadly go wrong that do not really need to but sadly, there seems to be no way back. As we have come to expect from Galahad the instrumentation has been carefully constructed, with sweeping atmospheric synths and electronic rhythms. This along with Stu's strong ever-present vocals taking us through the ebbs and flows of some powerfully created lyrics that lay down expectations for the rest of the tracks ahead.
Track Two
"Everything's Changed" engages Lee's guitar and Dean's keys to create a Rockier feel, along with some significant rhythms that power the song through its many clear twists and turns. The songs subject matter is all about misunderstandings in relationships and how they can affect and cause problems, often inadvertently.
Track Three
Stu explains "Shadow in the Corner" "is about the idea of having perhaps another version of oneself in the background; guiding in some way and keeping things on track, but it's also about the feeling that there is someone or something there in the background pulling the strings other than the physical version of yourself". Almost like a spirit guide helping us tackle all that this challenging life must throw at us. The song has a much darker feel to it than the first two, with electric guitar powering us through reminding me of the 1990's classic Flowered Up "Weekender" a little and it also has an impressive solo to look forward to part way through. There is also some intricate creative drumming to savour; in many cases drummers get taken for granted, it's worth taking time to listen out for Spencer's quality work here and throughout the rest of the album.
Track Four
Galahad lyrically are a band that never hold back with their thoughts and feelings and over the years the lyrics have taken us to many varied places and have also educated their audiences on a great many subjects. "The Righteous and the Damned" was inspired a few years ago when conflict in the Middle East (Iran/Iraq etc.) was constantly in the headlines. Stu explains "the twist is that it's also questioning; in a pretty basic way to be honest, the role of European nations in the troubles as it was the UK, France and Russia that carved up the Middle East early in the 20th century. Literally using straight lines, effectively inventing nation states that didn't exist beforehand; forcing many different ethnic/religious groups to live in and share the same territories which inevitably caused friction as time went on. Plus; moving forward into modern times it is as if the likes of Russia and USA and smaller players like the UK, France etc. have been using the Middle East as some kind of testing ground for all their modern weapon technology".
The track is one that once you listen to it you will never forget it. The band have certainly created a masterpiece here, it smoulders slowly at the start with Stu singing what sounds like a Jewish Folk song. After about two and half minutes of his Folkish crooning, this then takes a decidedly different path with some much heavier guitar sounds and hard hit rhythms with Galahad exploring areas they have never covered before. There is a feeling that Stu is taking his inner Serj Tankian, especially with the "Lies Lies Lies" section of the lyrics. The song also dives back to the 2007 Galahad album "Empires Never Last" and the lyrics "always remember empires never last, they always crumble and fall" fit in perfectly with the track's theme. It is a great nod back to the past and an excellent Easter Egg for long term fans to enjoy. It is an ambitious track with plenty to offer and once again these five guys, along with Karl Groom's quality production, show themselves that they are more than capable of pushing their creative envelope. The vast majority of Galahad have copious amounts of Dean Baker talent and for once it is nice of them on this one to give the over-worked chap a bit of a rest.

Track Five
"The Long Goodbye" is about dementia but sung in the first person, with the protagonist trying to understand what is happening to him/her. This song was started a few years ago when Stu's Nana and Aunt both had dementia, he watched a film "Still Alice" staring Julianne Moore which is about the effect of early onset dementia which had a profound effect on him and inspired him to complete the song. The sad irony is that his Father has just been diagnosed with dementia and has deteriorated badly in the last few weeks which has been exceedingly difficult to deal with, so the timing of this release is surreal to say the least. Stu continues "when I wrote the words for this track Peter Gabriel's words from "I Don't Remember" just came into my head and made perfect sense for the closure of that section of the track. I was not sure whether to use them or not, but it just seemed to fit perfectly so I did (hope it doesn't come back to haunt me!) it is more as a homage to him than anything else and I have mentioned him in the credits as he has been such a massive influence on me over the years".
The song is an absolute masterpiece and tribute to anyone who has suffered the devastating effects of dementia, to watch someone slowly lose their recollections and recognitions is like watching them slowly dying. At over thirteen minutes long, the track required a hugely creative element and the divine lyrics effectively describe the feelings of slowly losing years of memories that just slip away and never return. Dean's back from his extended tea break and brings a beautiful atmospheric soundtrack, supplying a great backdrop for this emotive number. Halfway through there is a break and a simple acoustic guitar starts to strum, this along with piano and strings provide one of the most heavenly pieces of music I have ever heard. I must confess, upon hearing this with the thoughts of loved ones it moved me to tears, I was an emotional mess as the song completed as Stu said "Goodbye". This is a special piece of music……. I defy anyone to listen to the music and not be moved by the lyrics and instrumentation.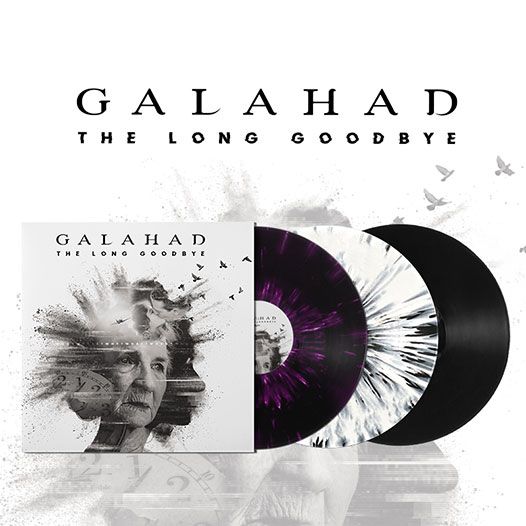 The final tracks of this collection are billed as bonus tracks and stand apart from the first five…………
Track Six
"Darker Days" is clearly about depression and is all about being overcome by a very dark place mentally and the battle to pull out of it. The instrumentation matches the mood with dark free-flowing expressive synths, along with some well-matched expressive electric guitar. Stu gives his usual top notch evocative vocal with some creative enhancements that add to the individality of the song. As the song concludes it takes a positive turn, showing that shaking off these feelings are more than possible.
Track Seven
The final track "Open Water" is like "Darker Days" in a way, but it is more about being overwhelmed by life's problems and feeling trapped in a situation that is proving extremely hard to escape from. But again; the protagonist manages to escape, dust himself down and carry on. Oddly, right at the end of the track; if you turn the volume right up there is a sound that is an ambulance siren which drove past Stu's house just as he finished recording the vocals and so we left it on there, although it is incredibly quiet and subtle. It is a heart wrenching song with nautical synonym that displays the vastness of the issues that affect us all on a day-to-day basis. The line about being an insignificant duck is a great thought generator of how the paganist of the songs feels amongst the vastness of his troubles. It's the shortest and slowest song of the collection and the instrumentation though subtle is equally as powerful.
So there it is, the twevlth Galahad album that has taken me and will hopefully take you on a journey via some wonderfully creative instrumentation and some very poignant lyrics. The band formed back in 1985 and there seems to be no let-up in their output and this record could be ranked amongst one of their finest. While keeping to their progressive leanings the band take various welcome diversions taking in other influences to keep their music relevant and captivating.
Track-Listing
Behind the Veil of a Smile
Everything's Changed
Shadow in the Corner
The Righteous and the Damned
The Long Goodbye
Bonus Tracks:
Darker Day
Open Water
Galahad are
Stu Nicholson – Vocals
Dean Baker – Keyboards
Spencer Luckman – Drums
Mark Spencer – Bass
Lee Abraham – Guitar
Links
https://www.galahadonline.com
https://www.facebook.com/room801
https://galahad1.bandcamp.com
Words by David Chinery (Chinners).