News: Lord Of The Lost Announce New Covers Album
on
November 13th, 2023
at
18:41

One year after the release of their game changing #1 charting album (Germany), Blood & Glitter, Lord Of The Lost are back with their first ever covers album, Weapons Of Mass Seduction, set to be released on 29th December 2023 via Napalm Records. 
The band have also unveiled the opening track of their upcoming offering, an electrifying cover of Billy Idol's "Shock To The System". Watch the
Weapons Of Mass Seduction features plenty of genre-crossing tracks and wraps up the busiest and most successful year in the band's history so far. In addition to storming the charts with their latest studio album, being invited by the legendary Iron Maiden as special guest on their European tour (again), numerous sold-out headline shows, and opening gigs for Powerwolf and Amon Amarth, the band represented Germany at the Eurovision Song Contest finals in Liverpool in May of this year. Lord Of The Lost made it clear once again that they do not limit themselves when it comes to genre norms and influences. 
Vocalist Chris Harms on 'Shock To The System': "I remember exactly when I heard this song for the first time. I was 13 years old, it was summer and I was sitting in the back of the Opel Manta convertible in which I drove to the open-air pool with my older sister and her boyfriend. Rarely has the energy of a single song gripped me so much. We'd like to give a little bit of that energy back with our tribute to Billy Idol and this song through our cover and accompanying video."
Pre-order Weapons of Mass Seduction here.
Weapons Of Mass Seduction features a wide range of songs from different eras and genres performed in true Lord Of The Lost style, all surprisingly fitting for the band and hence forming a cohesive collection of covers. Classic heavy metal track 'Turbo Lover', originally by Judas Priest, meets modern pop hits in songs such as Sia's "Unstoppable", Bishop Brigg's "River", and Zella Day's "High". Ultravox's "Hymn", followed by Michael Jackson's legendary "Give In To Me" and Keane's "Somewhere Only We Know", expand the multifaceted selection even further. With added rougher elements such as heavier vocals, Bronski Beat's captivating 80s electro pop hit "Smalltown Boy" gets a dark makeover in the hands of Lord Of The Lost. The unit's cover of another legendary 80s song, "(I Just) Died In Your Arms", features a guest appearance from rising singer-songwriter Anica Russo, who also took part in Germany's ESC 2023 preliminary round Unser Lied für Liverpool (EN: Our Song for Liverpool). An emotional version of The Pretty Reckless's "House On A Hill" closes Weapons Of Mass Seduction impactfully. 
A special 2 CD edition of the new covers album provides a cross-cut of covers previously released or already covered live over the course of Lord Of The Lost's career. Among them are the Roxette cover 'The Look' feat. Blümchen – already known from Blood & Glitter – "Children Of The Damned", a homage to Iron Maiden, with whom Lord Of The Lost experienced intense times during the last two years, and the cover of the Finnish ESC song "Cha Cha Cha" by Käärijä – sung by Chris Harms completely in Finnish.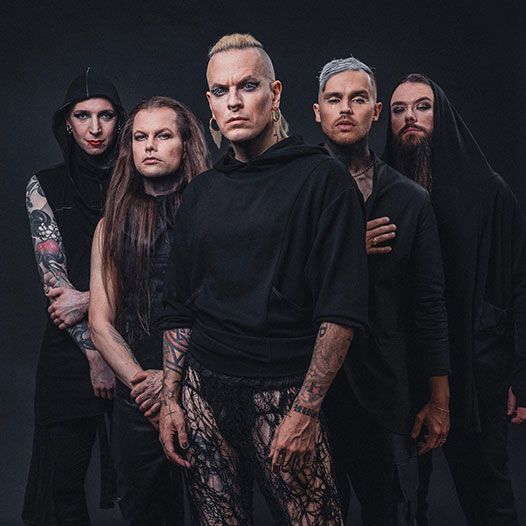 Weapons Of Mass Seduction will be available in the following formats…
3 CD Boxset, incl 2 CD 6 pages Digisleeve (Ltd Deluxe Edition) and CD 3 incl 10 acoustic songs, exclusively available in the Deluxe Box + pink Sweatband with black logo, sharped patch and sticker – Napalm Records Mailorder and LORDSHOP exclusive – strictly limited to 1000 copies worldwide
2 LP RECYCLED COLOR Vinyl – Die Hard Edition incl Slipmat, record butler and 12 inch booklet – Napalm Records Mailorder exclusive – strictly limited to 300 copies worldwide
2 LP RECYCLED COLOR Vinyl incl 12 inch booklet – LORDSHOP exclusive – strictly limited to 300 copies worldwide
2 LP Gatefold RECYCLED BLACK Vinyl
2 CD 6 pages Digisleeve (Ltd Deluxe Edition), 12p booklet
1 CD 6 pages Digisleeve, 12p booklet
Cassette (PINK w/ Black print) – Napalm Records Mailorder and LORDSHOP exclusive – strictly limited to 300 copies worldwide
Digital Album
Weapons Of Mass Seduction tracklist
CD 1
1.    Shock To The System (Billy Idol Cover)
2.    Unstoppable (Sia Cover)
3.    Smalltown Boy (Bronski Beat Cover)
4.    Turbo Lover (Judas Priest Cover)
5.    Hymn (Ultravox Cover)
6.    Give In To Me (Michael Jackson Cover)
7.    River (Bishop Briggs Cover)
8.    Somewhere Only We Know (Keane Cover)
9.    (I Just) Died In Your Arms (feat. Anica Russo) (Cutting Crew Cover)
10.   High (Zella Day Cover)
11.   House On A Hill (The Pretty Reckless Cover)
CD 2
1.    The Look (feat. Blümchen) (Roxette Cover)
2.    Ordinary Town (Celebrate The Nun Cover)
3.    Cha Cha Cha (Käärijä Cover)
4.    Judas (Lady Gaga Cover)
5.    Children Of The Damned (Iron Maiden Cover)
6.    Wig In A Box (Hedwig and the Angry Inch Cover)
7.    Bad Romance (Lady Gaga Cover)
8.    The Most Radical Thing To Do (The Ark Cover)
9.    This Is The Life (Amy MacDonald Cover)
10.   It's A Sin (Pet Shop Boys Cover)
11.   Ordinary World (Duran Duran Cover)
CD 3 – Ltd Deluxe Edition only
1.    Starman (David Bowie Cover)
2.    Girl, You'll Be A Woman Soon (Neil Diamond Cover)
3.    The Days Of Pearly Spencer (David McWilliams Cover)
4.    Hey You (Pink Floyd Cover)
5.    I Had Too Much To Dream Last Night (The Electric Prunes Cover)
6.    Where Do You Go To My Lovely (Peter Sarstedt Cover)
7.    Turn! Turn! Turn! (To Everything There Is A Season) (The Byrds Cover)
8.    In The Year 2525 (Exordium & Terminus) (Zager & Evans Cover)
9.    All I Have To Do Is Dream (The Everly Brothers Cover)
10.   Perfect Day (Lou Reed Cover)
Lord Of The Lost are
Chris Harms – Vocals, Guitar
Pi Stoffers – Guitar
Class Grenayde – Bass
Gared Dirge – Piano, Synths, Percussion, Guitar
Niklas Kahl – Drums
Links
https://label.napalmrecords.com/lord-of-the-lost
https://www.facebook.com/lordofthelost