Anyone who is local in the Dorset and Hampshire area will probably recognise at least one member of this band. Further From The Sky are all local lads who have come together by design, leaving behind other local bands, such as Kodiak Jack and Bring The Revolution. FFTS was formed in June 2018 and 2019 was kind to them; with a slew of live shows across the south coast, the band shared numerous stages with the likes of Stone Angels, Trouble County, Cyanide Sundae, Indya, Riot Club and Killing Morton, amongst others. As well as finding themselves in the semi-final of the 2019 Wedgewood Rooms Showcase, FFTS were also invited to support UKJ's Whitfield Crane and also Imperial Wax (featuring former members of The Fall).
"A Brief History of Broken Bones" is the band's debut EP and the first single, "Buying Friends" was well received, both on rock radio and by fans also. The searingly titled, "The Concentration Camps of Trump's America" is the new single, which comes with an arty and atmospheric black and white video, produced by Tony Palmer Photography … which is all very well, but, what is the actual music like?

Well, the first of the five tracks was the aforementioned 'The Concentration Camps of Trump's America' and I expected it to be some sort of massive rant against the orange president, but it actually wasn't. Well, it wasn't much of a rant, anyway. With great, chunky licks running through the song it was an impressive anthemic tune, although the vocals were a tad shouty for my taste (I would prefer growly, but each to their own).
Next up came the slower-paced, "Fathers" and the first thought that popped into my head when listening to the intro was, 'this is a bit like Stonesour'. That didn't last long and whilst I enjoyed the stompy signature, some of the vocals were a little discordant. That said, I liked it (I would be intrigued to see FFTS play to see how the vocals translate into a live environment). This reminded me of being in my twenties and going down to the local rock pub for a gig; it evoked memories of the sticky carpet, the smoky air, the Newcastle Brown Ale … there is absolutely nothing wrong with that as it lends some authenticity to their sound.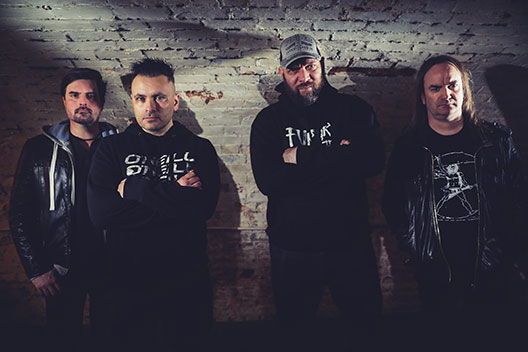 Middle track, "Broken Love" was a pacey affair, with some cool vocal harmonies and a decently timed chorus. I'm not sure if Steve's vocals were intentionally out of tune during the verses, as they were just fine for the chorus. I do love a good harmony and the mid-song solo was also very passable.
Taking us further towards the end was the defiant 'Crisis Actor', a stompy, petulant affair where the shouty vocals made a reappearance. Bringing up the rear, "Buying Friends" brought proceedings to a close, a funky, cymbal-heavy journey that crashed to an abrupt close just before the clock had hit three minutes.
Overall, I liked this EP; the vocals weren't always to my taste and I sometimes struggled with the seemingly out of tune notes being a little hard on the ears, but that aside, this isn't a bad effort for a band that has only been together for two years. It will be interesting to which direction they go in for either the debut full-length album, or EP number two.
Track Listing
The Concentration Camps of Trump's America
Fathers
Broken Love
Crisis Actor
Buying Friends
Further From The Sky are
Steve – Vocals
Stephen – Guitar and vocals
Spencer – Bass
Matt – Drums
Links
http://www.furtherfromthesky.co.uk
https://www.facebook.com/FFromTheSky/
https://twitter.com/ffromthesky
https://www.instagram.com/ffromthesky/
https://youtu.be/Qg6u5XTRG58
Words by Vikkie Richmond.