20 years ago in the picturesque Dorset town of Wimborne, three musicians joined forces to create a new Rock band. They featured the thundering riffs of Rich Peacock, the relentless bass of Olly Hopper-Pay and the Bonham-esque drumming of Peter Giles. The birth of the Clams provided the South Coast with plenty of new original music and their relentless gigging led to after only 18 months being signed by Andy Ross's (Food Records Fame) record label Boss Music. The industry sat up and took notice with the likes of Metal Hammer and Kerrang providing them with plenty of positive press. The band in 2003 were chosen as the main support for Chris Cornell's Audioslave at Brixton Academy in London, closely followed by playing at Alan McGee's request at his "Death Disco" night. After all this early success things started to fail and the record label struggled to find the funds to record and release the band's debut album. After regrouping and self-funding a new recording of "Clams 1" they caught the attention of Smashing Pumpkins "James Iha" and Fountains of Wayne's 'Adam Schlesinger' who wanted to sign them and mentor them on their Scratchy Records label. Alas; due to contract issues this was never to happen and after band members ended up in different parts of the Country, sadly Clams were put on ice.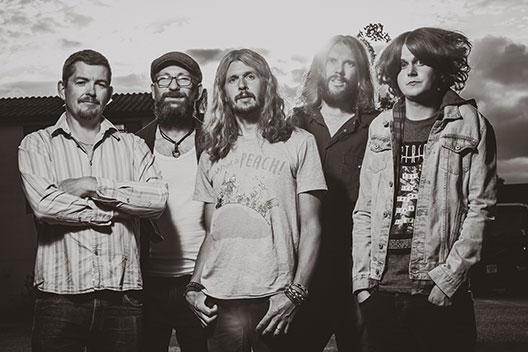 Over a decade later Pete and Rich met up for a beer which eventually would lead to the band's reformation and the release of the "Phoenix" Ep in 2018. The trio decided to take things further and were wanting to experiment with new elements to their sound while still keeping the mandate of the original band. They recruited Lee Cross on Hammond and Jon Kearley on second electric guitar to expand their options and encapsulate their Soul/Bluesy sound. The rehearsals with the new recruits worked out really well and the band entered the studio to record their first album in over a decade. The album is a 15 track "Raw & Dirty" beast full of great musical twists and turns, taking in influences from many great bands of the past. It's undoubtedly Rock N' Roll, it's called "Stone Lane" and is released sometime this year.
It kicks off with "Worn Torn" which features an elaborate keyboard intro, before the five-piece all show you their considerable skills as they combine together to create a big opener; with plenty of groove and infectious foot-tapping rhythms. This sets the benchmark for a Blues-fuelled journey through the history of Rock N' Roll, with big influences aplenty from The Beatles to Led Zeppelin, Credence Clearwater Revival to The Raconteurs. They could easily find themselves alongside many other bands as part of the ever-expanding music movement New Wave of Classic Rock (NWOCR), with their style and shape. "Come Back Home" the recent single is a tower of a song with an utterly pulsating bassline, which powers along with the keys and guitars perfectly. "Beg No More" is unadulterated Blues engine, while "Fly" slows things down and Richard delivers an incredible vocal delivery. "Move Up The River" is a pulsating bag of groove goodness while 'Morning Song' smoulders its beautiful way along an unmarked road. "Digging The Dirt" clearly sounds like the band have donned their double denim and giving us a bit of Status Quo.
"Back To 101" chugs along like a huge American goods train with its spot-on rhythms. While "Cuttlefish Blues" shows the band doing what they do best – kicking the arse of the Blues, you can just imagine them all set up in the studio with the two guitarists noodling away. The bassist Olly hits on a groove, the drummer joins in and there you have a Blues jam that turns into a great tune. "Bring Me A Sunbeam" has an atmospheric quality and the guitar work here builds up the picture with the neatly picked stringwork, while the keys enhance and Richard's Jon Bon Jovi style delivery brings it all together. "Money Tree" keeps this relentless momentum with yet more infectious Blues/Rock goodness. A couple of short jamming interludes are entwined with the final two tunes, "Truth Juice" which certainly sounds a bit Keith Richards and the acoustic-led "Riches To Rags"; a sort of sitting on the porch during a late Summer evening song. It has a lovely retro style to it with some masterful twinkling of the ivories and some understated guitar work.
The Clams getting back together eventually was always inevitable, but I am sure no one would have guessed what could evolve with the new line-up. This music certainly needs to be heard and these tunes I'm sure will continue to grow once they get the breathing space of a live stage.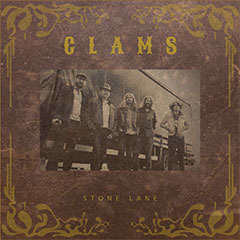 Track Listing
Worn Torn
Come Back Home
Beg No More
Fly
Morning Song
Digging the Dirt
Back to 101
Cuttlefish Blues
Bring Me a Sunbeam
Money Tree
Eight Arch Truth Juice
Truth Juice
Cantaloupe
Riches to Rags
Band Members
Rich Peacock – Guitar/Vocals
Jon Kearley – Guitar
Lee Cross – Keyboards
Olly Hopper – Bass/Backing Vocals
Peter Giles – Drums
Links
https://www.facebook.com/clamsrock
https://clams3.bandcamp.com
Words by David Chinery (Chinners).