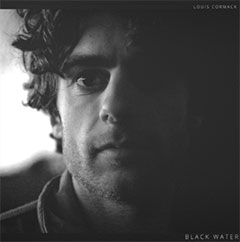 Singer/Songwriter Louis Cormack was born in Aberdeen, bred in Wiltshire and refined in County Cork in the largest and Southernmost county of Ireland. All three of these places have had an indelible effect on him and his music creation. He follows on from his self-released debut album 'Here in the Morning' with a 10 track album entitled Black Water, which is released on the 25th May. The album was recorded live to 1/4″ magnetic tape, bringing forward a recording process which has produced the sound of Louis' favourite classic albums from the likes of Nick Drake, Bob Dylan, John Martyn and Neil Young. The recording of Black Water was amazingly done in one 4-hour morning session at '57 Studios' in Carrignavar; (North Cork) Ireland using just two SM57 microphones going into a Dynacord Powermate 1000 desk, which went out to a Revox A77 2 track tape machine with everything being mixed live as he played. Louis wanted to capture the delivery of each song in its most raw and purest form, to give the listener something real to experience. He feels to get the best listening experience from the recording is to be listened to in its purest form on a vinyl record.
The album's title was inspired by the Blackwater River in Ireland; it starts in Kerry, cuts through North Cork and meets the sea in West Waterford. The area; steeped in history yet so much of it overlooked, with little effort to preserve or restore. Louis has come across a lot of hidden treasures in the Blackwater Valley, he explains "it's a great place to go for an adventure. Just before the key was turned on the lockdown, a friend and I visited the source of the river which was a pretty cool marshy place. And by the first bridge over the Blackwater stands a solitary house, decorated with ancient black bog oak scattered around the garden".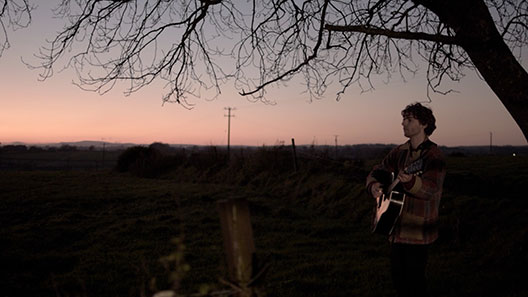 The album opens with "Let The Tide Decide", a tune which was written while on a beach in New Zealand. It introduces Louis's intimate singer/songwriter style, which feels like he is playing to an audience of one. It creates a unique; much less clinical atmosphere, which is indeed a refreshing change from the almost perfection of many modern recordings. The song is a nod to the travelling shoes that Louis seems to have and the places in which he finds himself. The delicately plucked strings work in a beautiful unison with Louis's soothing voice; who tells the personal story about his difficulty in trying to find where he belongs, going with the flow and letting the wind/tide take you wherever it happens to be going. Track 2 "Joe" at 2:11 is one of the shortest tunes on the record, a beautiful set of lyrics about a figure who Louis has looked up to all his life, someone who he honestly admitted he has subconsciously imitated their path in many ways.

The album features a collection of open and honest lyrics, personal struggles, relationships, family, place and death. There is a darkness behind many of the songs, but with a buoyancy of optimism that lifts from the gloom of some of the subject matter. "Beneath The Oak Tree" is one of the rare happy songs of the collection, we are taken to a place of contentment and the vocal leads us upward to a blissful dreamland. "Master It" sounds like a youthful Neil Young, with subtle harmonica and some great acoustic guitar combining brilliantly to create one of the stand-out tracks of this collection. "Merry-Go-Round" is a cleverly disorientating and mesmerising piece while "Same Old Girl" takes on a nice Dylan-esque style. "Seesaw" sees a return to the subject matter of the first tune, detailing how the buffeting of life can show you your own direction. The lyric "if Life is a balancing act; take my crutch with all its cracks, I can't stand to see the scene unfolding" adheres to this.

"Threw It All Away" has a deeper richer sound to it, with some lovely atmospheric electric guitar, played under possibly the best sincere vocal delivery of the album. The final tune of this collection is "Television Dream", which is seemingly about an infatuation of someone. It's a sad tune that shows much emotion along with detachment and realisation.
Louis explains "I wanted to capture the songs in a way where the listening experience would feel as alive as possible like you could hear the furniture in the room kind of thing. And the songs were young and vulnerable, which is how I wanted my first album to be. I imagine looking back on it in years to come thinking "that sounds like me at the time" or something".
The album has navigability and vulnerability about it, showing an artist who is still finding their way; it is clear there is plenty of talent in abundance. Louis has used these tunes as a way of carving out an original sound for himself, with half an eye on some of his peers of the past. There is plenty here to keep original singer/songwriter music fans happy with Louis navigating around many styles.
Track Listing
Let The Tide Decide
Joe
Beneath The Oak Tree
Master It
Merry-Go-Round
Same Old Girl
Stay With Me
Seesaw
Threw It All Away
Television Dream
Links
https://www.facebook.com/louiscormacksongs
https://louiscormack.bandcamp.com
Words by David Chinery (Chinners).