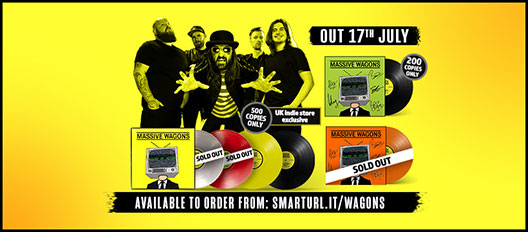 Lancaster Rockers "Massive Wagons" release their much-anticipated album "House Of Noise" on the 17th July via Earache. The twelve-track record is the band's fifth studio album and is set to be their most accomplished work to date. Commenting on the forthcoming release, frontman Baz Mills says: "I've always said that you cannot lie to your fans because they can smell an imposter a mile away; I couldn't do what I do knowing I'm feeding people bullshit, your songs, your stage show, interviews, ours are all 100% us, I'm 100% me and when I say this album is our best yet then I totally mean it! House Of Noise is absolutely our best songwriting yet, it feels like 10 years in the making and through being signed with Earache we were able to record it at a dream studio with two of the best producers in the biz, Mr. Chris Clancy and Mr. Colin Richardson. These guys took our songs, our ideas and abilities and collectively we managed to capture the best sounds we have ever recorded. We could not be happier with the outcome, its been an absolute dream recording this album and we cannot wait to give it to rockers and rollers all over the world."
The album follows the "Full Nelson" which was a UK Top 20 hit in 2018 and brought the band into the hearts of a much bigger fan base and towards much larger stages. They are renowned for their explosive stage show having headlined many major shows/festivals around the UK and Europe, including an Arena tour with Lynyrd Skynyrd & Status Quo.
Massive Wagons kick off things with a trio of tracks that are absolutely huge, there are not many albums that can boast that they have a lead into a record as good as this. If you're a Wagons fan already or you listen regularly to Planet Rock Radio the three tunes will almost certainly be familiar with you. "In It Together" is a joyous rabble-rousing slice of rock n' roll; opening with an immediate wall of beautiful melodic noise, coupled with Baz's powerful no-nonsense vocal and an infectious chorus. "Banging in Your Stereo" leaps out of your speakers into your ears with hard-hitting rhythms; along with some incredibly creative guitar work, before "House Of Noise" grabs you and your neighbour's by the scruff of the neck and delivers another epic tune. The momentum of this album is one that carries you along, jumping from track to track with relative ease and no need to reach for the skip button. 'Freak City' sees Baz letting off steam with the lyrical declaration "My head's a disco full of people I don't like" and "Hero" pays homage to bands they have toured with. It's a song about never giving up on your dreams, it features a hefty slice of blues along with a fantastic guitar solo that you will be just itching to hear played live.
"Professional Creep" is another tune that features a huge wall of noise with the band thundering along at some pace, a tune that could get a moshpit created instantly. "Pressure" just radiates energy; a beautifully crafted tune with a song that brings together the best from the band's last two albums, with a heavy slice of infectious classic rock with a sting in the tale. The mood lightens somewhat when the telephone rings and signals the start of the first and hopefully not the last of the Massive Wagons comedy classics. The "Curry Song" encapsulates everything that us Brits love about going for a 'Ruby Murray'. Baz takes us through the menu of his favourite curry house with some clever lyrical twists and an earworm of a song that once you have heard it you will never forget it. "I say Keema you say Naan, K-e-e-m-a K-e-e-m-a N-a-a-n, I say Rogan you say Josh, R-o-g-a-n R-o-g-a-n J-o-s-h. "Glorious" is a little ditty about one of us reviewers, a guy called "Dave" who is dedicated to writing about his favourite bands on his online blog….sounds familiar.
"Sad Sad Song" shows once again Steve and Adam excelling with some excellent guitar riffage that carries the song to its great uplifting chorus and a tune that I would describe as a very typical Massive Wagons song and yet another which is sure to become a live favourite. "Hallesrewya" shows the band pushing their creative selves to bring something quite different from their usual ingredients and is seemingly a big fat middle finger to someone who has let them down in the past. 'Matter of Time' finally slows that epic momentum that has been created out of the previous eleven tracks. At eight minutes long it's one of the longest tracks that the band have crafted. It meanders along and shows a different, gentler and progressive side of the band and would be a welcome addition to a live set; if only to give us older members of the audience a breather from their fast pace.
The Lancaster quintet is part of a movement of a new breed of Rock n' Roll bands whose music and energetic live shows have been inspiring a new generation of Rock music fans. Their large following of fans follow their every move by the magic of social media and the band are only too pleased to pander to their needs with a host of quality content. One of their enduring features is their accessibility, you can find them over a variety of platforms and they are just five normal blokes who happen to love music and are in a successful band, who are beginning to really fulfil their dreams. This album could really take them to the next stage and who knows where that where/when that might be.
Band Members
Baz Mills – Vocals
Adam Thistlethwaite – Guitar
Stevie Holl -Guitar
Adam "Bowz" Bouskill- Bass
Alex Thistlethwaite – Drums
Track Listing
In It Together
Banging In Your Stereo
House of Noise
Freak City
Hero
Professional Creep
Pressure
The Curry Song
Glorious
Sad Sad Song
Hallescrewya
Matter of Time
Links
https://www.massivewagons.com
https://www.facebook.com/MassiveWagons
Written by David Chinery (Chinners).