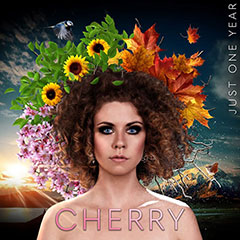 Cherry Morris is singer/songwriter from Bournemouth who started off her musical journey with an acoustic guitar and a yearning to create her own original music. This after being inspired by early memories of listening to tunes by The Beach Boys, David Bowie and The Beatles while in the bath. These tunes were supplied by her clearly trendy and most influential Mother. After getting out to perform at gigs and open mic nights at various venues in Bournemouth, Cherry was asked to enter the Bournemouth Unplugged Competition in 2018. After battling through the various rounds against stiff competition she triumphed in the final, taking the previous year's winner Kimari Raven's crown. Her considerable songwriting talent and performance had clearly been recognised, along with her striking image. This gave the singer the validation and confidence she needed to push forward with her music.
This month sees the release of Cherry's debut EP "Just One Year", the EP was recorded with her newly formed band and is all about the perils of a particularly difficult relationship. You can tell from the depth of lyrical content there was a lot of hurt during this time and these tunes act as a way of dispelling this, as Cherry puts it herself rather bluntly "it's raw, it's real and it's about a dickhead". The EP opens with "Coup De Foudre" which is French for love at first sight and it is the start of this short musical rollercoaster of a story. It opens with a backward-style musical intro; a little like the Stone Roses did with "Don't Stop", before a gently plucked acoustic guitar introduces Cherry's smouldering vocal. Remember the first time you heard Adele, well the first time I heard Cherry was like that. Her voice features emotive sultry and passionate moments, it is hard not to be mesmerised.
"Some Fun" is a slow-building, skipping through the meadows full of the joys of spring-type number; uplifting and at times showing caution for the new relationship. "You want to give everything but you are not sure the other person feels the same", type feeling. "Rhythm" is my favourite tune of this collection and I was driving home from a day out the other evening and turned on the local Radio Solent station, and there it was; being played by a DJ who was also clearly impressed by this number, which shows Cherry and the band at their best. Infectious lyrics coupled with some beautiful melodic guitars from Natalie, who creates the perfect backdrop for this rhythmic sensation.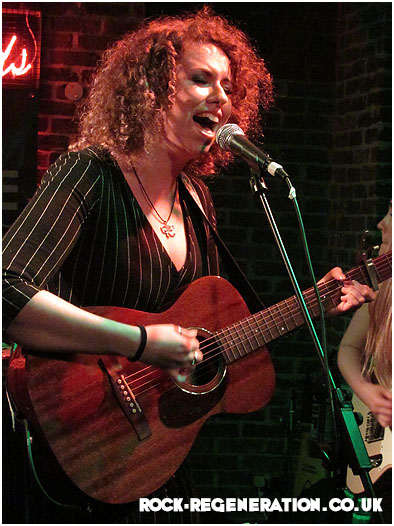 "Loved You More" is a tragic heart-breaking dissection of the regretful relationship and the pain is clear, with Cherry delivering the vocals showing the excruciating hurt that was felt. There's a should I stay or should I go moment, but in the end, it's clear what decision needs to be made. Once again Natalie brings her solid guitar skills into play while the boy's gentle rhythms build in the background. The final number "Through The Night" can be seen in all its glory below in a well-produced video, filmed in the dark of night in a haunted house with horror themes. The song once again shows Cherry's shimmering vocals, which shine bright across the wonderfully atmospheric music; which creates the tune's vibe perfectly. It concludes this whole story wringing out the last fragments of anger, allowing the singer to move on with her life.
Cherry Morris has talent, imagery and style in abundance; with this EP validating everything her local fans already knew about her. This EP gives her the chance to deliver her music to a much wider audience; which will hopefully lead onto greater things, which she thoroughly deserves. I'm sure though she has learnt her lesson from this experience and will pick her men much more carefully in the future.
Track-Listing
Coup De Foudre (Love at first sight)
Some Fun
Rhythm
Love You More
Through the Night
<strong<Band
Cherry Morris – Guitar/Vocals
Natalie Betts – Guitar
Rob Plumber – Bass
Chris Tybjerg – Drums
Links
https://www.facebook.com/cherrysoundsofficial
http://cherrysounds.com
https://www.instagram.com/cherrysoundsofficial/
Words by David Chinery (Chinners).