County Antrim, Northern Ireland alternative singer-songwriter Amy Montgomery has recently released her debut EP Intangible. Amy was a big hit on the European festival circuit last Summer after many stunning debut performances at eighteen festivals including Glastonbury, Cambridge Folk, Electric Picnic and Black Deer. Her live performances were initially honed from relentless busking across her native Emerald Isle. The new EP represents the start of the new uncharted journey for this most talented; new outlandish bohemian artist, who makes no compromises with her musical creations.
The songs represent a young artist who won't shy away from her inner feelings; one who has had to deal with the tragic pain of her mother's suicide, somehow finding an inner strength using music as a form of therapy. Amy explains "these songs still have a lot of pain," she says, "but they're lighter. I actually feel like I've let go of a lot of things in the past year, and that's had a big influence on my writing. I want to tell people that it's OK to feel a certain way," she added. "You might feel happy one day; then the next day you might feel like shit, and that's alright. We need more songwriters doing that, addressing mental health. It is getting better; but I think depression is still quite a taboo subject, especially in music."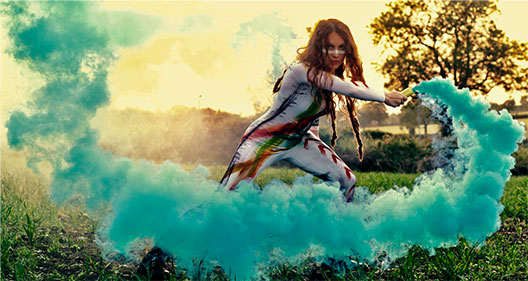 This five-track EP includes some of Amy's recently released singles, along with a couple of specially recorded live tracks. Each tune features it's very own visual experience with its own video. Amy is at the helm of each working tirelessly behind the scenes; designing her own performance costumes, painting on canvass and sketching storyboards. Clearly, artistic control is important to her in all areas of the creation processes. The EP opens with its title track and immediately shows Amy's voice in all its glory, it's sometimes delicate and it sometimes soars with power. The unique musical backing features constant rhythms, coupled with a psychedelic combination of guitar and snyth. Next is a reworked version of American singer-songwriter Sharon Van Etten's "Jupiter 4", a tune about love and longing. Amy's version is a live recording with the most haunting and passionate vocal delivery; backed with a prominent incessant drumbeat, keys and a sprinkling of electronic magic. Partway through there is a vocal that just powerfully projects with a heavenly tone.
The mood lightens somewhat on the next track "Anywhere", a much brighter poppier offering, which just shows the diversity available. Its infectious bouncing demeanour and original style would certainly lend itself to radio airplay. Track 4 is a live version of one of Amy's earlier singles "Old Photographs", the tune is quite raw in comparison with the other tunes featuring just an accompaniment by piano and yet more of the wonderful voice that powers its way along beautifully. The final track is a reworked version of another earlier single "Dangerous", which once again turns things on its head with an altogether different style of music. The track has a very retro feel to it, visiting some of the styles of the past mixed with subtle modern tweaks.
There is just so much to take in here, on an EP of very epic proportions. I am not sure if Northern Ireland knows quite what an extraordinary musician they have nurtured in Amy Montgomery. It would be a travesty if her music does not reach out to the far corners of the globe.
Track Listing
Intangible
Jupiter 4 – Sharon Van Etten (Live)
Anywhere
Old Photographs (Live, Belfast 2020)
Dangerous (2019 Version)
Video





Links
http://www.amymontgomery.me
https://www.facebook.com/AmyMontgomeryUK
Words by David Chinery (Chinners).