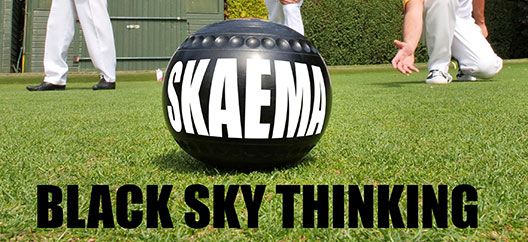 Barely two years have passed since Post/Punker's Skaema quietly made their debut album entrance with the rather fine "Tales Of The Expected". I questioned back then how they were going to follow that up, I needn't have worried. With fire in their bellies and a glut of local shows the length and breadth of the South Coast and beyond, they honed their craft debuting new material along the way. With an imposed Lockdown bands Countrywide have been putting their time to good use, and Skaema is no exception. The fruits of this labour are collated here in album number two, the interestingly monikered "Black Sky Thinking". You know an album is going to be half decent when it only needs one play!
"Meet Market" opens this collection with a skewed Stranglers-esque and heavily bass-led intro that evokes all the dark menace one feels upon entering a basement club for the first time. The Hugh Cornwell-esque vocals aren't lost on the listener while the keys in the bridge would make the late 'Mr. Greenfield' proud. The chiming guitars perfectly match the layered vocals and lyrics based around the whole "night on the pull" scenario. A stellar opener that lays the foundations for the whole album. "Fence Sitter" stays in the same ballpark with its Poppy keys intro; giving way to a throbbing bass before a potent vocal kicks in, grabbing one by the throat – clear, audible and downright defiant. The keys may take centre stage but the storytelling lyrics paint a picture. A lengthy bridge is the only element spoiling the song, yet the chunky guitar section at the end of this part brings it back to life. The anthemic bellows of 'Fence Sit A' breed a deliberately hard edge to its conclusion.
"El Tel" tones down the power somewhat in a kind of "Blues/Desert/Rock" style; twisted, layered vocals hold your interest but one assumes the lyrical content is personal? I'm completely lost as to what the song is about or even who? But, it's a gentle detour from the all-out "Post/Punk" elsewhere. "Tinderbox" returns to the familiar with more bass throbs and guitar chimes, but that overriding Stranglers influence cannot be ignored. "Straighten Out" comes to mind – the drumming in the background is subtle, allowing the bass to take centre stage. The bridge is simply wonderful, harking back to a bygone era – an early highlight.
"Walk With Me" takes the tempo back down with its heartfelt, storytelling lyrics and simple beat. Briefly it ascends in the chorus but I feel it's a tale of longing for one's past and the good ole days. The keys in the bridge remain in the general theme of this collection, but the chorus screams togetherness. "Fender Bender" is altogether more experimental and ushers in yet more styles within their sound. Lyrically confusing yet musically inventive it has (hints of) The Fall (minus Mark E. Smith's yelping}. Another lengthy bridge where the vocals appear to just randomly tag onto; part song, part spoken word.
"Young Man" opens with those bass throbs in abundance while the now trademark storytelling vocals set the tone. Clanging guitars in places, layered vocals and more subtle skin tapping. It's a kind of mid-album filler song, not out of place but not quite single material! "Ballad Of Gianni Pollo" is an instrumental, the subject matter I know of not. A gentle keys intro is matched to a clicky bass which just hovers above. It's pleasant enough, a breather track for live shows maybe? Personally, I feel it would fare better with lyrics, but hey ho…
"Dead Behind The Eyes" begins all raspy guitars and wholesome bass, which sets us up for more Cornwell-esque vocalising. Autobiographical maybe but fiction or not, it has that dark menace about it. More Dave Greenfield-esque keys in the bridge as the vocal reappears; allied to thudding, grinding guitars and bass with a wonderful outro. "3 A.M. Nocturnal" sees the Stranglers influence continue through the instrumentation, lyrics and vocals. Slightly comedic in the chorus while the keys and bass jockey for space throughout. It's the sound of an angry, belligerent Cornwell in a confrontational mood! "Shades Of Grey" ends this collection slowly, haunting and dark; but sure enough once the vocal kicks in it livens up. A song of two parts it briefly comes alive, before a return to the darker notes of the intro. The bridge however is terrific – both bass and guitar try to out-pace each other, only to be upstaged by the keys with a sharp ending to finish.
When Skaema released their debut I questioned whether they could deliver a strong follow-up. I shouldn't have doubted them, this album has so many great elements. Whilst not ready to totally shake off the shackles of Post/Punk they deliver eleven fine songs that make up this album. Some old, some new, some experimental – all with a generous nod to Hugh Cornwell-era Stranglers. And if the aforementioned are your bag then let Skaema take you back to the leather-clad Post/Punk era, where being Independent was all the rage.
Track Listing
Meet Market
Fence Sitter
El Tel
Tinderbox
Walk With Me
Fender Bender
Young Man
Ballad of Gianni Pollo
Dead Behind The Eyes
3 A.M Nocturnal
Shades of Grey
Skaema are
Neil Phillips (Lead Vocal, Guitar, Synth)
Duncan Gooch (bass, Backing Vocal)
Peter (Drums)
Links
https://skaema.bandcamp.com
https://www.facebook.com/skaemapunk
Words by Ross A. Ferrone.