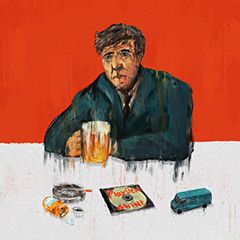 Straight outta Herne Hill (London) come rowdy teenage Punks Play Dead with their imperious EP "Skint". These three chaps haven't let their lockdown time go to waste; penning these five short, sharp, shock musings on life in the suburbs. "Hide" is the opening track with its fierce, slashing guitars and angry Cockney drawl in the vocal. Punchy snare-hitting is the backdrop to an immediate vocal delivery that has an air of negativity virtually from the outset.
Not dropping in tempo from "Hide" comes lead track "Skint" and no need to guess the song's subject matter. Harsher vocalising with a powerful backdrop of heavy-hitting and scratchy chords. It's a call for attention to one's financial woes with an air of desperation in the lyrics. 'Shaun' is the next track, an ode to the bassist's Nan's boyfriend. The dual vocals are a clever touch, allied to the ramshackle instrumentation. I'm reliably informed he likes pies, pints and Coldplay – well 2 out of 3 ain't bad I suppose! He also has a short fuse that resulted in an assault and subsequent arrest no less – here though he is celebrated in song.
"Brockwell Park" is the weekend hangout of these lads – long summer days and nights on the lash, cheap fags and all sorts of shenanigans. What better way than to honour these times than in a song. Heavy hitting, strong vocal delivery and scratchy guitars aplenty and the obligatory cussing. "The Drip" completes this five-song introduction to the band. Another song about life and the going's on, hanging with mates and getting up to no good. Despite being the clearest and audible cut of the five, the lyrical content needs no explanation. Powerful cymbal-heavy hitting matches the direct, anthemic vocals; while the subtle bass in the bridge sets it up for the big climax.
While I don't get the Clash and Sham influences I'm more reminded of lyricists like Billy Bragg and Jamie T, with maybe a smattering of Idles in the vocal style. I guess everyone will hear different influences but it's refreshing to hear another fine young act to add to "the new breed". Championed by Alex Wonk (Wonk Unit) no less, these guys have started well with this EP. I for one would love to see them on a dual headline tour with Essex's finest Queensway (post Lockdown), tearing up the toilet venues Country-wide. But for starters this is a fine introduction to a confident young trio with (I'm told) more in the bag!
Track listing
Hide
Skint
Shaun
Brockwell Park
The Drip
PLAY DEAD are
Joe Blair – Guitar & vocals
Ollie Clarke – Bass & backing vocals
Louis Englefield – Drums
Links
https://www.instagram.com/weareplaydead/
https://twitter.com/PLAYDEEAD
Review by Ross A. Ferrone.