News: Lithuania's Up-coming talent Timid Kooky release "Baby Be My Spiderman'"
on
March 26th, 2021
at
19:59

Recently named Best Young Band in Lithuania, as well as Best New Baltic Band, Timid Kooky release "Baby Be My Spiderman", the band's first release since their 2018 debut album Tanzen which saw them breakthrough onto the international touring and festival circuit. It's a perfect short, sharp showcase of their unique blend of alternative and progressive rock, black metal, noise, and funk/jazz influences that takes cues from the likes of Kyuss, Primus, Beastie Boys and Rollins Band.
The band have some fascinating insights on the Lithuanian music scene and mindset post-Soviet occupation which are explored in the bio below, and they have a fantastic sense of humour which shines through in their memetic, dark-humoured approach to social media and the visual elements of the band.
Part of the New Wave of Lithuanian Rock currently bubbling up from the Baltic states, Timid Kooky are all about cartoonish celebration of the mundane. As such, the Lithuanian trio have absorbed alternative and progressive rock, black metal, noise, and funk, to create a curiously addictive new sound—often little more than chants laid over menacing, hypnotic riffs, their songs are as fascinating as they are visceral.
For a band recently named Best Young Band in Lithuania, as well as the Best New Baltic Band, it all began in 2015 in a tiny, cramped rehearsal space established in an old Soviet computer and calculator factory called SIGMA. In recent years, the band explain, the factory itself has become something of a mecca for underground musicians, and one of the best places to rent rehearsal spaces for Vilnius-based musicians.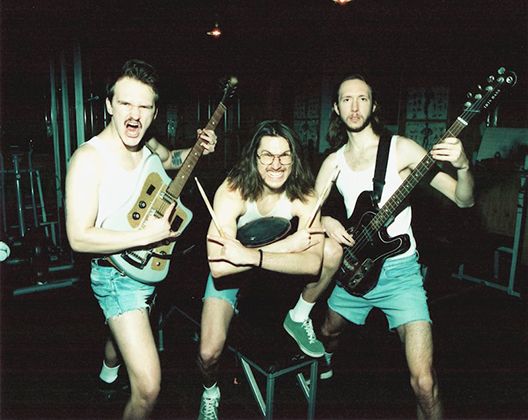 During those early rehearsals, the band found their chemistry by uniting under two central banners: a twisted sense of humour, and a shared interest in music with no boundaries. Taking a game-like approach to their writing, they never take themselves too seriously. "We are three clowns," admits Tomas, laughing. It's something that's immediately obvious from the band's memetic artwork, press shots and videos, most of which they create themselves.
"We could hire professionals to design visuals and all those assets, but we really care about making everything as authentic as possible, so that the audience feel a personal connection with us," they explain. In an effort to make their social media presence fun for themselves, the band strive to be as ridiculous as possible, mainly communicating through absurd meta anti-humour. "It's always been like: 'how do we make people question whether it's all irony or whether we're just complete idiots?'" says drummer Džiugas enigmatically.
One thing they do take very seriously, though, is their love of music. Occupied by both the Nazis and the Soviet Union during the 20th century, Džiugas explains that the subsequent censorship and restrictions on music from the wider world has left Lithuanias with a special craving for music. "People were missing out on that, and so we've had many artists mimicking western riffs and singing in English as we do," he says. "In this sense, the only true Lithuanian music is like old folk multipart songs, where multiple singers start to sing the same song at different times and make a natural human delay."
"I feel that the more types of music you explore, the more perspectives and knowledge you have that you can implement into your creative activities and life philosophy in general," adds guitarist Dovydas. "I like to think of different genre knowledge as a means of better socialisation and empathy. I guess you could say that getting into different types of music promotes self-growth and helps you better understand other people and their feelings."
Having had only 30 years of freedom to reboot their entire political system together with proper cultural education, it's only recently that Lithuanians have had a chance to dive deeper into the culturally-loaded waters of a generation of artists born in a free country. "We have a long way ahead of us to truly develop our taste buds for any art form in general," muses Džiugas on the current state of play.
These dual national experiences of a light-hearted approach to tough times, as well as a deadly seriousness about their cultural freedom, go a long way to informing forthcoming new EP Baby Be My Spiderman. Recorded in October 2020 at Ymir Audio in Vilnius, the record was produced, mixed and mastered by Snorre Bergerud.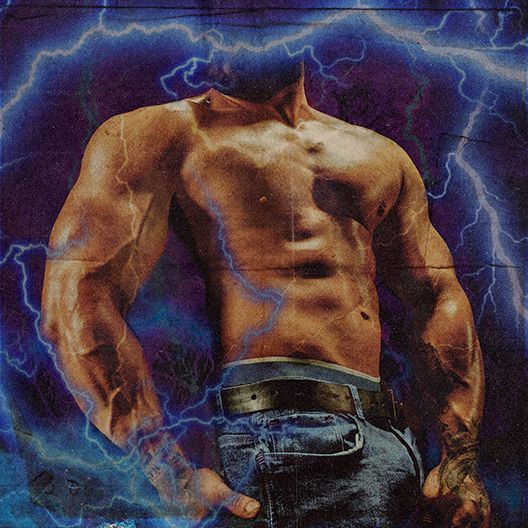 A ripping journey through desert rock, progressive metal, classic rock, punk and technical hardcore, the band cite Queens of The Stone Age and Primus as key musical influences, and their style also contains echoes of Beastie Boys' wackiness and the post-hardcore sonic assault of Rollins Band.
Lyrically, Baby Be My Spiderman is a concept record about ego destruction, centered around an overconfident, macho hyper-masculine character who takes everything too seriously, cares too much about what others think of him, and rides a bike just to look cool. "Eventually the feeling takes over him and he goes on an inner self-realisation journey while riding," says Džiugas. "Every song is a phase he's going through during the journey. In the end he finds himself, his inner peace—he is no longer driven by ego, he is free from himself."

It's a theme the band hold close to their heart, with Timid Kooky meaning "total freedom to be myself, without any boundaries" to Džiugas, "the anxiety of being in the doctor's waiting room on the wrong day" to Tomas, and "a place of musical anarchy" for Dovydas, where they can come "face to face with our anxieties and embrace them, instead of pushing them to the deepest corner of our subconscious."
For a band who truly shine on stage with high energy, virtuosic performances, Timid Kooky have surprisingly found the pandemic a welcome respite from a punishing self-imposed live schedule. Indeed, the band go as far as putting the perfect capture of their huge live energy on this record down to the pause. "Up until the pandemic, we were actually almost burnt out from playing gigs," says Džiugas. "We were touring so much with the first album that we didn't have time to sit down and write new material, so this EP to us is a long-awaited gulp of fresh air."
Given the chance to re-evaluate their goals as a band and start a new ideological chapter, the trio have regained their hunger and sense of direction. "From the beginning we always felt our music was meant for bigger stages," says Džiugas, "so naturally we're looking for opportunities to play festivals with bigger sound rigs. The more amps the better. I think we need at least 100 amps on stage…" he laughs.
Their latest ambition sees them setting their sights on the UK. "I would say the UK alternative/punk music scene has been a huge inspiration both music and mentality wise," says Dovydas. "Idles have been sort of a personal hero to me ever since I saw them live for the first jaw-dropping time. Other bands that came to mind right now are Squid, USA Nails, Girls In Synthesis, to name a few. Overall I've been enjoying the hell out of the modern UK punk scene and I think it has been a paramount influence to all of the European musicians."
Timid Kooky are
Martynas "Džiugas" Stanevičius – drums
Dovydas Subičius – guitar
Tomas Simniškis – bass
Links
https://www.facebook.com/timidkooky
https://timidkooky.greedbag.com