Musician Ted Riley is a man on a mission with his constantly evolving musical project "Planespotting". After the release of a few initial diverse tracks; "Superfan", "Unforgettable" and the wonderfully titled 'Gossip Encyclopaedia' Ted announces the release of a new single entitled "Lush (Live Wires)". The track is released along with a rather hypnotic video, which can be seen below. The Bournemouth raised artist has got together with his friends to deliver about of serious musical fun, with the lyrics inspired by "turning the lemons we're all currently chewing at the moment straight into lemonade".

The 'Planespotting' project initially started life as an Indie/Rock band playing music inspired from faraway places, including eclectic elements of Bossa Nova, Calypso, Jazz and Samba; infused with classic English Indie/Rock. With the current pandemic still raging; Planespotting continues with much of the same influences but as more of solo venture for lead singer/songwriter Ted, who continues to produce and release music by himself and with others.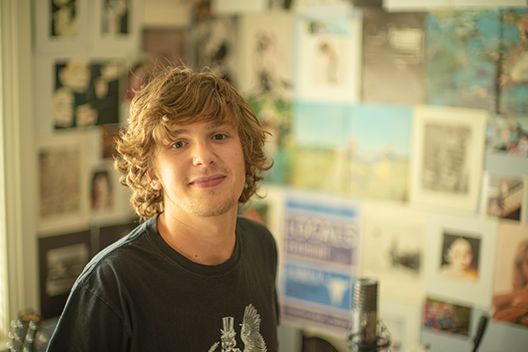 The track has a quirky unique sound with an individual vocal, Ted describes the track as "a real spirit lifter; Inspired by a vision of euphoria, which swept away the protagonist; prompting a mental showreel of the best moments of their life. Incorporating the late David Bowie lyric "Live Wires" from the verse of "Rebel Rebel", an Indie / Funk / Boom bap-driven feel-good tune to lift spirits in these melancholy times". It's really refreshing to hear such a diverse track with someone who is happy to push the boundaries and absorb different influences into his creative process.
Links
https://www.facebook.com/teddyisplanespotting
https://www.instagram.com/planespottingband/
Words by David Chinery (Chinners).